The best places to stay in Gandia
Gandialocated in the south of the province of Valencia, is one of the most important holiday destinations in the Valencian Community. Almost everyone knows it for its Mediterranean beaches, but it also has an important monumental and landscape heritage. To discover it in depth, the ideal is to stay at least a few days there. To start planning your trip, here is a complete guide on the Best places to stay in Gandia.
A trip to Gandía will allow you to enjoy the sun, the beach and a rather quiet lifestyle, but also natural landscapes such as the Marjal de la Safor or the Parpalló natural areaas well as the curious fish market, old monasteries and the spectacular ducal palace of the Borgia (or Borgia, depending on how you look at it), one of the most powerful medieval families in Europe.
As you can see, you will not lack plans to do in Gandía, so you will have to dedicate a few days to it. When looking for the best place to stay in Gandía, you can choose from a good number of hotels, pensions and tourist apartments. Prices depend on the season, rising significantly in summer and Easter, but maintaining great value for money the rest of the year. Even during peak season, if you search ahead and be patient, you can find good deals.
If you want to know the coast of Valencia with some of the best excursions, you can book them here:
The city center, the best area to stay in Gandía to have everything at hand
It is true that most travelers come to Gandía in search of the beach, but there are also those who prefer to have the beautiful monuments, restaurants, shops and other things that the historic center of the city has to hand.
In addition, from this part of Gandía you can reach the beaches in just over 45 minutes on foot or in 10-15 minutes by public transport.
In it historic center of Gandía there is a complete selection of tourist apartments, with very few hotels and pensions. These are some of the best accommodation options in this part of the city:
Playas de Gandía, the best place to sleep in Gandía to enjoy the city's beaches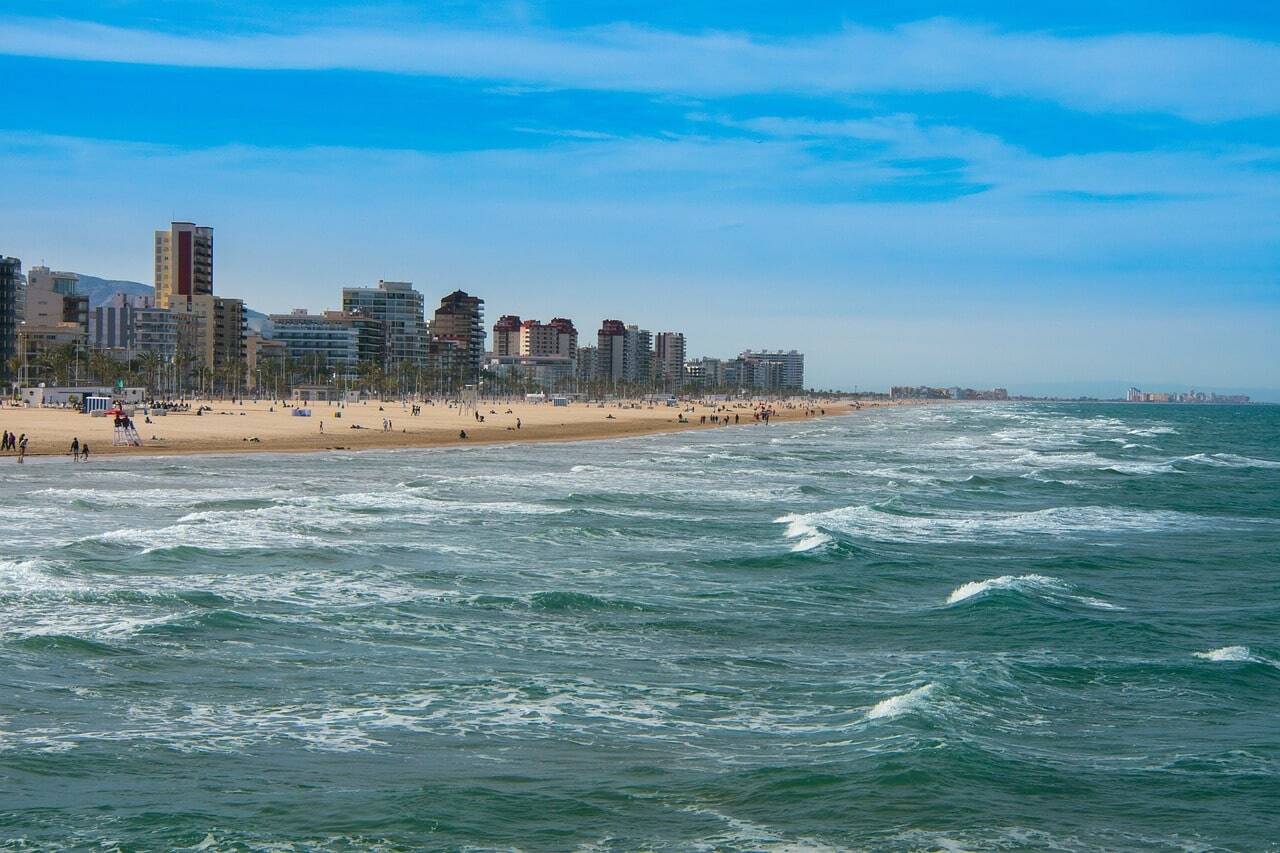 Although staying in the center of Gandía has many advantages, the truth is that many travelers come here wanting to feel the Mediterranean breeze when they wake up. They can have that by staying near the city's beaches.
In Gandía there are several good urban beaches, which are still the same strip of sand, but with a different name. Thus, near the beaches of Daimús, Bellreguard or Miramar, you will find a wide range of hotels and apartments.
These are some of the best places to sleep on the beach in Gandía:
DO NOT WAIT TO RESERVE YOUR RENTAL CAR
Do not wait until the last moment to book your rental car. Through rentalcars you will find the best market price and free cancellation service.
Click here to make your reservation.
The best apartments to sleep in Gandía
If you are one of those who prefers to sleep in apartments during your travels, you are in luck in Gandía, as the city is half taken over by tourist apartments, especially in its historic center.
Staying in them gives you greater independence, without having to attend to schedules and even being able to organize some of the dinners and lunches in what will be your home for a few days.
These are some of the best apartments to stay in Gandía:
The best cheap accommodation in Gandía
If you travel to Gandía with some concern for your pocket, don't worry because you will be able to find good bargains with great value for money. The secret is to be patient and preferably look for something out of season (the months of June or the end of September are usually a great option to find good cheap accommodation in Gandía).
These are some good cheap accommodation in Gandía:
Map of the best places to stay in Gandía
So that you don't have problems finding the best places to stay in Gandía, here we leave you this useful map:
*The prices of the article are approximate, referring to a two-night stay, during the weekend and in a double room (or, where appropriate, an apartment for two people).
youF.W.
Transparency policy: In Viajablog you will find travel information divided into 6000 articles like this one, which cover all the continents and are the result of our time and effort, as well as passion. These articles may contain links to useful products and services for your trips (such as hotels, travel insurance, etc.) that provide us with a small commission if you buy or hire them through us, but which in no case represent an increase in price for the reader.