The best places to stay in Bruges
Although it is an overly obvious play on words, the Belgian city of Bruges is a place that will leave you totally haunted. That is what its squares, old baroque and neo-Gothic buildings, fantastic museums and, of course, breweries and chocolatiers that are famous throughout Europe, achieve. Although it is just over an hour by train from Brussels, being able to make a day trip from the Belgian capital, the truth is that Bruges is well worth a visit of 2 or 3 days. To plan it, here we leave you this useful guide on the best places to stay in Bruges.
Bruges, being an eminently tourist city, has a wide range of accommodation in which you will find a great variety. Thus, you can choose between hotels, tourist apartments, pensions, hostels and Bed & Breakfasts. The prices tend to be somewhat high, but if you search patiently and in advance, you can always find places to stay in Bruges where the value for money is more than acceptable. Above all, if you can adapt your dates and travel outside of the high season (Christmas, Easter and summer).
Carefully weigh all the criteria that are important to you when choosing accommodation and we are going to show you several optimal options where to stay in Bruges.
Discover Bruges with some of the best guided tours and excursions in the city. You can reserve them here:
1. The historic center, the best area to stay in Bruges
Being a city in which the tourist attractions are concentrated in a rather small area, without a doubt, the historic center of Bruges is the best place to stay in Bruges.
This area is sometimes called "the Ring" because the ring road encircles the center of the city. Staying here you can visit places on foot such as the fantastic Town Hall Square (Burg), the Marktthe old Saint John's hospital (which today houses a magnificent art museum), the magnificent Groeningen Museum (where you can admire works by the great Flemish painters), the Beguinage or the great bell tower of Bruges (Belfort van Brugge), from which you will get the best possible view of the city.
In addition, you will also have access to an endless number of restaurants, bars, cafeterias and shops of all kinds, highlighting those breweries and chocolate shops that attract those who are inclined towards the gastronomic incentives of travel.
Some of the best hotels and tourist apartments in Bruges can be found here. It is true that it is not the cheapest area to stay in Bruges, precisely, but searching carefully and being attentive, you can find quite interesting things.
These are some of the best places to stay in the historic center of Bruges:
Hotel Biskajer – Adults Only: if you are planning a romantic city breakThis is one of the best hotels to stay in Bruges. Situated just over 300 meters from the Market Square (Markt), this 4-star hotel features bright, period-decorated rooms and all guests make it clear that while the hotel has excellent facilities, the best thing about it is your personal. You know, if you want to feel at home in Bruges, this is your place.
Rose Red Hotel: magnificent 2 star hotel which, within its modesty, fulfills its mission perfectly. Its location is unbeatable, the rooms are calm and quiet (with comfortable beds) and, in addition, it has its own bar where you can always have a drink. From about 80 euros/night it is a great economic option to sleep in the historic center of Bruges.
Hotel Malleberg: the Malleberg hotel is a three-star hotel that is close to everything. The staff is very friendly and the rooms are spacious (they have family rooms), clean and with beds that catch you as soon as you touch them. From around 100 euros/night.
2. The Sint-Anna neighborhood, a good place to stay in Bruges for family trips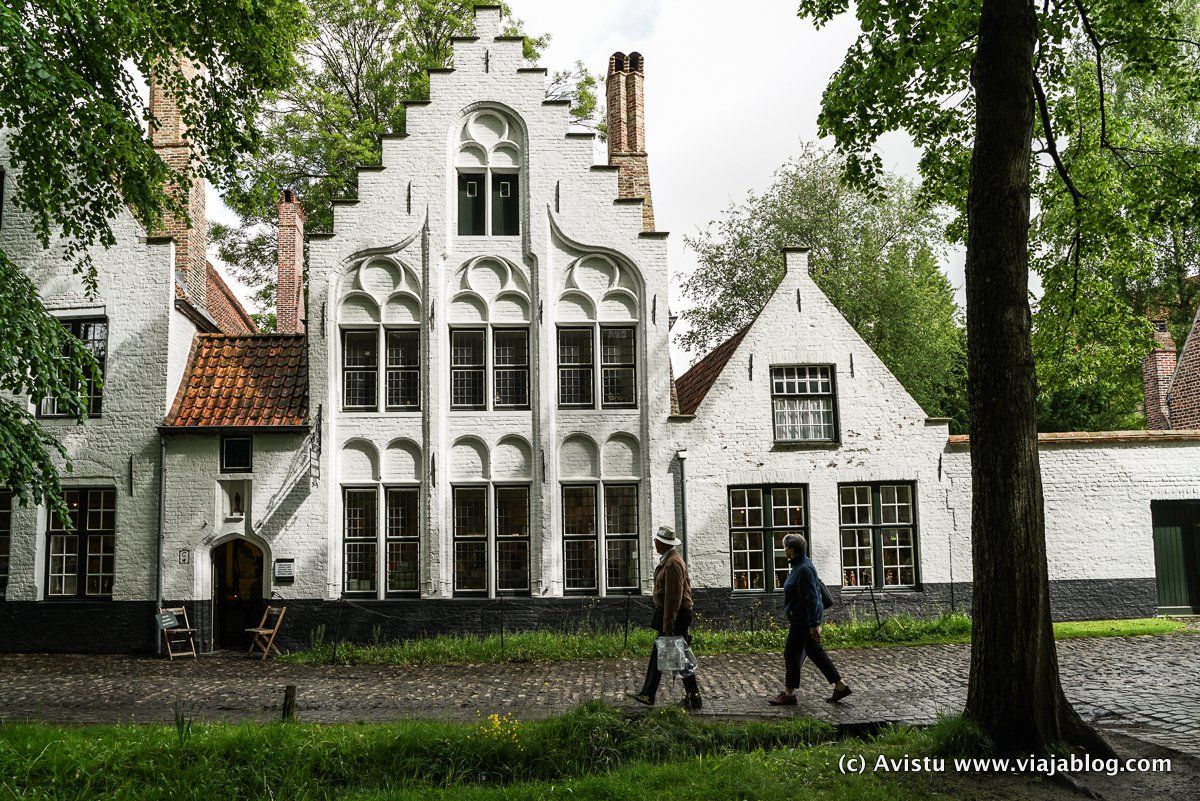 In the northeast corner of the Ring of Witches is the Sint-Anna neighborhood (Santa Ana), just across the canal from the center of town. This residential area is only 20 minutes from the city center and the Grote Markt, but it is very different in terms of atmosphere.
The streets are lined with 17th century terraced houses, and here is also the famous Cafe Vlissinghe, which has been serving customers for over 500 years. The center of the neighborhood is the church of Santa Ana, which also dates from the 17th century.
DO NOT WAIT TO RESERVE YOUR RENTAL CAR
Do not wait until the last moment to book your rental car. Through rentalcars you will find the best market price and free cancellation service.
Click here to make your reservation.
This is a very quiet place and everything you may need is close by. This makes it an excellent area to stay in Bruges for a family trip, for longer visits, or for travelers looking for a more local experience.
These are some of the best options to stay in Sint-Anna:
B&B Anna's: one of the best B&Bs in the city. It is a 5 minute walk from the Belfort tower and the rooms are really spotless. Breakfast, included in the price, is from another planet. From around 120 euros/night.
B&B Saint-Georges: beautiful rooms, delicious breakfasts and attention from the hosts who seem almost like a family member (a family member with whom you get along well, yes). Everything is taken care of with care and down to the last detail in one of the best places to stay in Bruges for a couples trip. From around 110 euros/night.
Hotel Adornes: is about one of the hotels in Bruges best valued by guests (with a score of 9.1 on Booking). Extremely friendly and professional staff; cozy and clean rooms; 10 minutes walk from the center and with magnificent views of the canal. A place you will never want to leave. For about 130 euros/night.
3. T Zand, the best area to stay in Bruges for cheap accommodation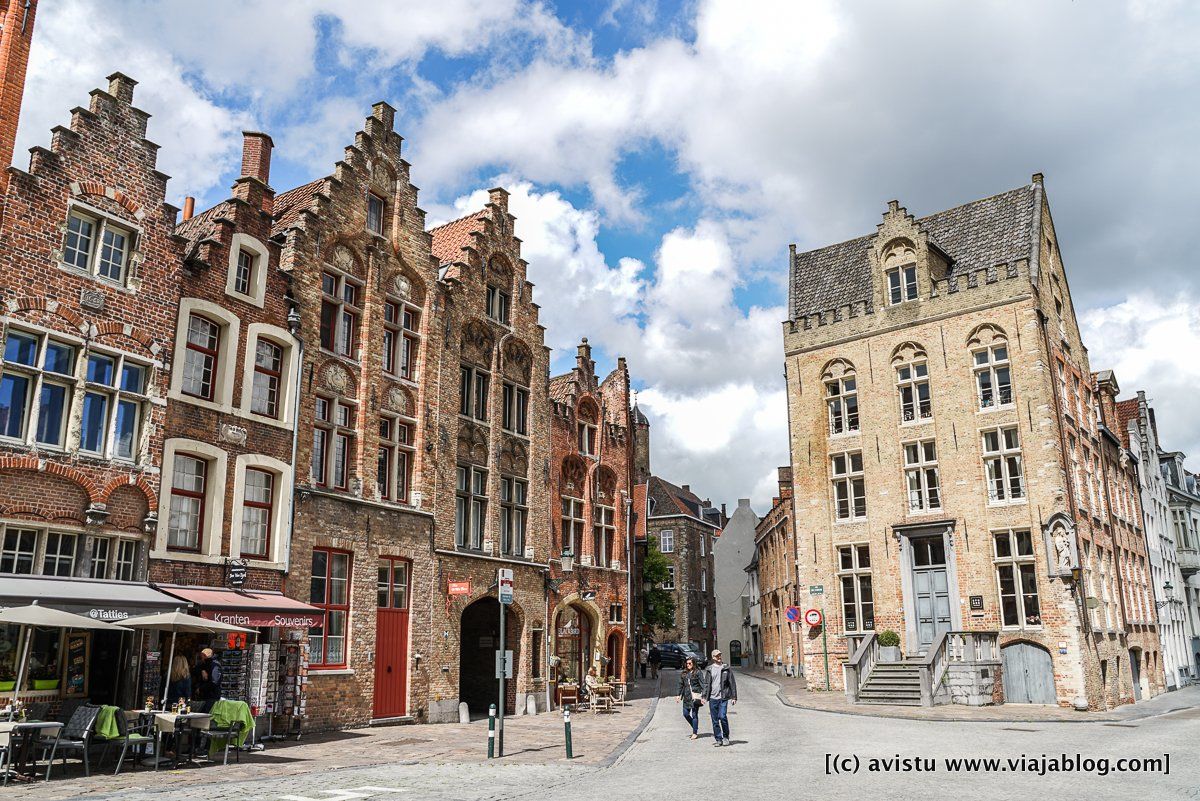 It is true that sleeping in Bruges is not something that is usually too cheap. However, if you are on a tight budget, you can find good cheap accommodation (and good quality) in the T Zand area.
Insurance to travel to Bruges
Are you one of those who still thinks that travel insurance is dispensable? We always travel with IATI insurancea Spanish family company that always responds to us with professionalism and closeness.
Among the insurances they offer, the IATI Getaways you can be a good option for a trip to Bruges. An IATI Getaways insurance that covers a one week trip to belgium it can cost you about €18 (about €2.5 per day), giving you spectacular coverage of up to €50,000 in hospitalization expenses, repatriation, theft, cancellation expenses and other contingencies. Besides you have a 5% discount when you come from us through this link.
This place is located right on the western edge of the historic center and is named after t'Zand street, which is located just inside the Ring.
T Zand is full of life and bustle on Saturdays, when a jumble sale that you can't miss.
The location just outside the city center means there are affordable accommodation options, less than a ten-minute walk from the Grote Markt.
In addition to many cafes and restaurants along t'Zand street, you can also visit the king albert park, one of the green lungs of Bruges. And if you like music, you're in luck, because near here is the Bruges concert hall.
These are some of the best places to stay in this area:
Hotel NH Brugge: close to the center and the central station of Bruges. Has the characteristic level of the 4-star hotels of the NH chain, making it one of the best places to sleep in Bruges. From around 120 euros/night.
Hostel Lybeer Bruges: if you are looking for cheap accommodation in Bruges, this is your place. It is a modern and clean hostel in which a great atmosphere is generated. In addition, the people at the reception are always available to help and advise you on things to do in the city. You can sleep here from about 30-35 euros/night.
Hotel Maraboe: the Maraboe is a 3-star hotel, comfortable, pleasant, with spacious rooms and a more than acceptable value for money. Furthermore, it is not far from the center (15-20 minute walk) and offers private parking if you travel by car. From around 80-90 euros/night.
4. The best apartments to sleep in Bruges
More and more, travelers tend to opt for tourist apartments instead of hotels during our trips. Perhaps it is due to the greater flexibility and privacy that they offer us.
In Bruges, this trend has not yet penetrated so deeply and, although there are at least fifty apartments, the truth is that hotels, B&Bs and hostels are still the majority. However, we have done a bit of research to find out which are some of the best apartments to stay in Bruges:
Apartments Ridderspoor: Spectacular 1 and 2 bedroom apartments (with capacity for 2-8 people) that are a delight, both for a trip as a couple or as a group of friends or family. From around 120 euros/night. A step away from the historic center of Bruges.
Inn Bruges: great one-bedroom apartments with a sofa bed that can accommodate 2-4 people. Very good location, comfortable beds, comfortable, clean and spacious and perfectly equipped. Without a doubt, from around 110 euros/night they are one of the best apartments to stay in Bruges.
Gastenkamers Ten Huyze Marchandise: comfortable and cozy apartment, both its rooms and terrace spaces, kitchen, living room. Also, the owner is so friendly that it is not uncommon for him to leave local beers and chocolates in the fridge to welcome you. A real luxury apartment in Bruges for a trip with family or friends. From around 180-190 euros/night for 6 people (it has 3 bedrooms).
5. Map of the best places to stay in Bruges
So that you have everything controlled and located, here we leave you this useful map with some of the best places to stay in Bruges.
*The prices of the article are approximate, referring to a two-night stay, during the weekend and in a double room (or, where appropriate, an apartment for two people).
youF.W.
Transparency policy: In Viajablog you will find travel information divided into 6000 articles like this one, which cover all the continents and are the result of our time and effort, as well as passion. These articles may contain links to useful products and services for your trips (such as hotels, travel insurance, etc.) that provide us with a small commission if you buy or hire them through us, but which in no case represent an increase in price for the reader.