The 10 best beaches in Ibiza
Ibiza It is an island that has always had that party halo, hippie environment and an atmosphere that makes it one of the most attractive tourist destinations in our country. In that pack of claims, of course, are its beaches. Delicious natural coves, long beaches for families... Among the best beaches in Ibiza There's a little bit of everything.
More than 200 km of beautiful coastlineit is possible to escape from the crowds of the White Island to take refuge in natural beaches that have little, or nothing, to envy to the classic pictures of the Caribbean.
Thanks to the magical climate that the island enjoys, outdoor adventures on the best beaches in Ibiza can be done almost throughout the year. From sunset kayaking to exhilarating snorkeling adventures and hikes along the island's rugged shores. Some of Ibiza's most wonderful stretches of sand lie within natural reserves properly protected, and local beach cleanups offer the opportunity to make a positive impact on the environment. Grab your beach gear and let's go for a route by car to discover the best beaches in Ibiza.
Discover the best of Ibiza with some of the best excursions and guided activities. You can reserve them here:
1. Cala d'Hort, one of the best beaches in Ibiza to watch the sunset
For the best views of the 400 m high uninhabited rocky island of Es Vedrayou have to explore the Cala d'Hort beach.
This beautiful stretch of sand is lapped by some of the most perfect waters in Ibiza and is supported by a group of large beach bars. Like many of the island's must-see beaches, d'Hort isn't huge, so get up early to find a decent spot. Once installed, you can enjoy the views and the bath, as well as the best snorkeling in Ibiza.
And when it's too hot, just switch to one of the beach bars for a cold drink accompanied by some good prawns. At sunsetfind a good place to enjoy the spectacular panoramic views offered by Es Vedrà.
2. Sol D'en Serra, a Hawaiian beach in Ibiza
Sol D'en Serra it feels and looks a bit like Hawaii. It is a small cove nestled in a remote location, almost completely surrounded by mountains. Just past the curvy, pebble beach is a small mountain that rises dramatically, like a miniature diamond head.
A few sections of golden sand beach slope gently down into a bay with sparkling turquoise blue water. the water is calmsince the cove is very protected, turning it into a giant pool.
Where to sleep in Ibiza
If you are looking for accommodation in Ibiza, I recommend the San Antonio Hotel. This 3-star hotel offers great value for money. It is located 100 meters from the magnificent Caló d'es Moro beach and also has a swimming pool. If you are not convinced, here you can book, without any price increase, in any other hotel or apartment in Ibiza:
There are a few small cafes and restaurants, plus beach chair and umbrella rentals. The area feels more like part of a private resort than a public beach. It's about 20 minutes from Ibiza town, near the larger (and busier) beach of Cala Llonga.
DO NOT WAIT TO RESERVE YOUR RENTAL CAR
Do not wait until the last moment to book your rental car. Through rentalcars you will find the best market price and free cancellation service.
Click here to make your reservation.
3. Benirrás, one of the best beaches in Ibiza to live the hippie atmosphere
Benirras beach is on the northwest coast, near the town of San Miguel. Benirrás is known for its beautiful sunsets, bohemian atmosphere and spectacular landscapes..
It is a small cove, and part of the beach has fishermen's huts, where they clean their catch after fishing all morning. It is the perfect combination of the sheer scenic beauty of the area, a beautiful, compact and well protected white sand beach, and the lack of development that makes it one of the best beaches in Ibiza.
The beach is made of coarse sand and at its ends you will find rocks, which, together with the spectacular clarity of its waters, makes it an interesting place to dive. Apart from the spectacular sunsets, the beach has a famous drum show on sundays at sunset.
There are a few small beach bars selling food and drinks, as well as beach chairs and umbrellas for rent.
4. Cala Comte, paradisiacal waters in Ibiza
On an island where most of the beaches are quite small, Cala Comte stands out both for its size and for the beauty of its surroundings.
Overlooking a handful of islets (and the not so small Illa des Bosc) emerging from its perfectly clear waters, the beach has 800m long and is divided into three sections, two of which are sandy, the other being a little more rocky and only for nudists. It's flanked by some quirky looking bars offering unparalleled views of Ibiza's much-admired sunset, as well as decently priced food and drinks.
5. Ses Salines, one of the most popular beaches in Ibiza
If you are looking for a rugged and remote beach, but you like cafes, electronic dance music and funky shops, Ses Salines is for you.
Named for the nearby salt flats and marshes, this is a wide, wide beach with soft, fine sand. It is popular and can get very crowded during high season. The sand is soft as powder, and the water is especially clear here. Beyond the beach, there is a nature reserve, an attraction worth exploring.
The salt content of the ocean is high on this side of the island, making it a great place to float in the sea. As in so many other places in Ibiza, here there is a DJ spinning music throughout the day in the cafes and beach clubs. Wherever you go, you will hear electronic dance music.
6. Talamanca, one of the best beaches in Ibiza just a step away from the capital
We do not have to go very far from the capital to find one of the best beaches in Ibiza. It is about Talamanca.
The talamanca beacha curve of pale yellow sand 900 m long, presents calm turquoise waters and enjoys a great location less than 4 km from the city of Ibiza.
As expected, due to its location, this is a tourist beach and is crowded during the summer months with visitors from all over the world. But the locals come here too, both for the lively beach bars and for the swim. Talamanca has a fantastic variety of beach bars along its stretch, from Flotante, the favorite hangout for Ibizans, to the elegant Harbor Club and Club Talamanca, the latter of which serves excellent pizza.
7. Cala Saladeta, one of the most beautiful coves in Ibiza
Cala Saladeta is one of the many stretches of sand in Ibiza that proves that size is not everything when it comes to beaches.
Small and beautiful, this is one of the most popular beaches on the island with tourists and locals alike, and after just a few minutes here, you'll understand why. Saladeta's perfectly clear waters give a whole new meaning to the word turquoise and are shallow and calm, making it a great beach for a family day out. However, especially in high season, you will have to arrive very early to get a seat.
8. Cala Xarraca, one of the best beaches for diving in Ibiza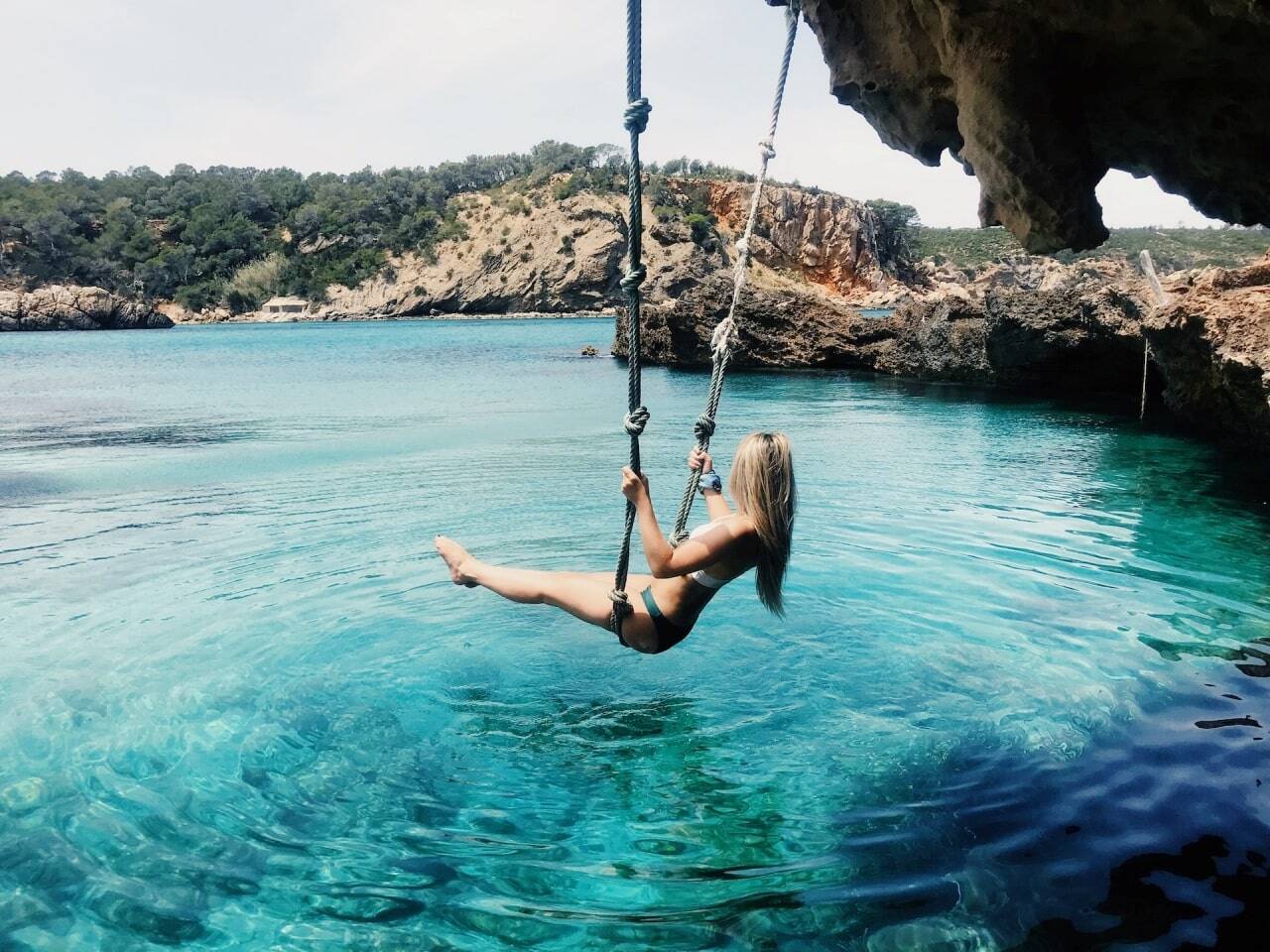 We find Xarraca cove in the northern part of Ibiza. This is where many lovers of diving travel, since local people say that the clearest waters on the island are found here.
The cove is divided into two, being the 100-meter strip of sand, protected by a rocky wall, the calmest of all. From there there is a small detour to a nudist area. Right in front of the beach there is an islet that can be reached by swimming.
Xarraca is a beach where it is very deep a few meters from the shore, so it is not advisable for families with small children. On the contrary, it is a paradise for divers, as they can find underwater life as soon as they get into the water.
Just to the right of the beach are the dry docks of cove Xarraca. There is no sand here, just some flat rocks that serve as a platform to descend into spectacularly clear water. Here you will find octopus, cuttlefish, colorful fish and marine plants.
9. Cala San Vicente, a good beach for the whole family in Ibiza
It may not be the most virgin of Ibiza's beaches, but Cala San Vicente is indeed one of the most popular, since it has all kinds of services, has a beautiful natural environment, turquoise and clear waters, and is suitable for the whole family.
With about 380 meters long and 80 meters wide, it has a decent capacity among the island's beaches, so you will find spaces even in high season. Here you can take a walk around the surroundings renting a kayak or have a good laugh trying the banana boat.
On the seafront you will find cafes, bars and restaurants, with offers for all budgets. The beach is easily accessible from the towns of San Juan (10 minutes by car) and San Carlos (15 minutes).
10. Cala Xuclà, one of the best kept secrets among the best beaches in Ibiza
Cala Xuclá is one of the smallest and solitary beaches in Ibiza.
You won't find flashy beach bars, baths or water sports in this small cove, which overlooks a dense, fragrant pine forest rather than a busy promenade.
Fishermen still store their boats in small enclaves carved out of the pink and red rocks that surround the beach, providing a rustic contrast to the elegant craft seen moored on Ibiza's main beaches. Xuclá's underwater landscapes are as rugged as its countryside, making it an exceptional place to practice snorkeling.
Map of the best beaches in Ibiza
Here we leave you a useful map so that you do not miss anything of the best beaches in Ibiza.
youF.W.
Transparency policy: In Viajablog you will find travel information divided into 6000 articles like this one, which cover all the continents and are the result of our time and effort, as well as passion. These articles may contain links to useful products and services for your trips (such as hotels, travel insurance, etc.) that provide us with a small commission if you buy or hire them through us, but which in no case represent an increase in price for the reader.