Paris at Christmas: Guide with plans and offers
For many people it is the City of Lights, for many others, it is the next destination to spend Christmas.
Are you planning to travel to Paris for Christmas?
The first thing you should do is organize ahead of time. Second thing, read this
Guide with plans and offers.
Because we are going to tell youEverything to see in Paris at Christmas. The best Christmas markets, the typical gastronomy that you must try and even the most recommended shows to go with the family. And, of course, also the offers with the most adjusted prices in flights and stays. In short, we are going to tell you everything. So keep reading!
How Christmas is celebrated in Paris
In Paris, Christmas is celebrated like in the rest of France and, by extension, like in almost all of Europe. All families are looking forward to the December 25, Christmas Dayto share their gifts and, of course, have the December 24 and 31 as key days for large celebrations and family gatherings.
There is a lot of familiarity in Paris if you decide to celebrate Christmas there and you are traveling from Spain, but there are also some rather peculiar things. Did you know that Christmas Eve dinner there has a special name? Is called Le Revillon and it is done to celebrate the birth of Jesus after the Messe de Minuitthe famous French Christmas Eve Mass.
On the other hand, we cannot forget about the Parisian Christmas markets, which are the big stars for tourists who visit the capital at that time. Neither of another very French custom, the Santa's response to each and every child who send their letters asking for gifts. He does not leave a single one without responding in his own handwriting!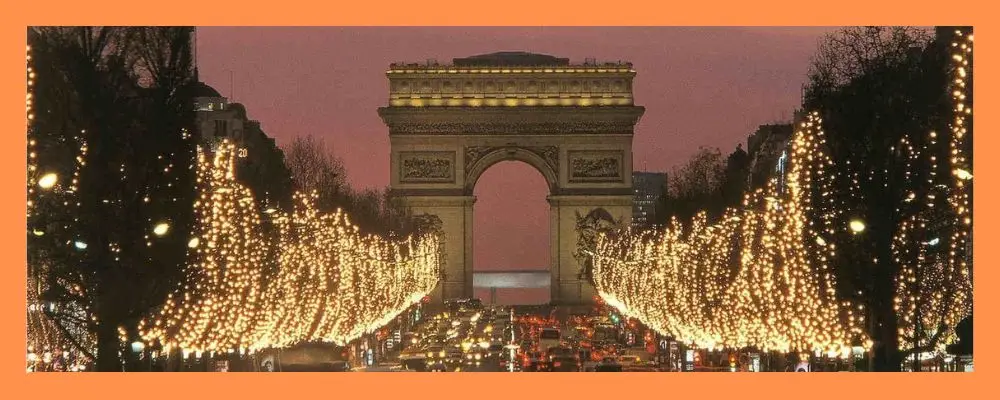 When do the Christmas lights come on in Paris?
Seeing the Christmas lights is one of the star plans in Paris. However, the first thing you should know about it is that not all parts of the French capital follow the same deadlines on the calendar.
Usually, the Christmas lights of Paris are turned on mid november and remain running until 1 or 2 January of the following year. There are areas that break this rule, such as the Haussmann neighborhood, where it begins on November 12 and ends on January 15. Other zones, like Saint Germain des Pres, are limited to December only.
That is the general line that is followed, and the same happens with the schedules. The usual thing in Paris is that the lights come on between 4 and 5 in the afternoon and go out around 11:30 or 12 at night. On Christmas Eve and New Year's Eve, there are some neighborhoods that do not turn off the lighting, such as Avenue des Champs-Élysées. Keep it in mind!
What to see and do in Paris at Christmas
To set up a good planning for spending your Christmas holidays in Paris, the first thing you need to know is what can you see and do in the capital during these festivities. Don't worry, because there are plenty of plans. So many that they would not fit here. That's why, we have selected the creme de la creme of Parisian Christmas. So you can enjoy only the best.
Christmas fairs and attractions
Are there fairs held at Christmas in Paris? The capital dresses up during the final stretch of the year, and it does so with fairs, attractions and all kinds of experiences. Here are several essential recommendations:
⚠️ HEY, ARE YOU GOING TO TRAVEL SOON?
Saint-Denis Craft Fair – Every Christmas, the Place de la Basilique de Saint-Denis hosts the Craft Fair. A perfect opportunity to buy gifts while you browse its books, furniture, jewelry, art... All handmade by the artisans who set up the stalls, the workshops and even the tastings that are held in mid-December.
The Disneyland Paris Christmas Show – Disneyland Paris always celebrates Christmas. It mounts a fully illuminated tree more than 20 meters high, its characters walk through the park dressed up and accompanied by shows such as the Sparkling Christmas Parade or the fireworks in front of the Sleeping Beauty Castle. Pure magic!
The Christmas Jardin d'Acclimatation – Very close to the Lous Vuitton Foundation you can see how the Jardin d'Acclimatation becomes a Christmas place. It has three attractions for all audiences, 100% Christmas decoration, an Express Sleigh made into a roller coaster, a Snowy River full of penguins and unforgettable musical shows.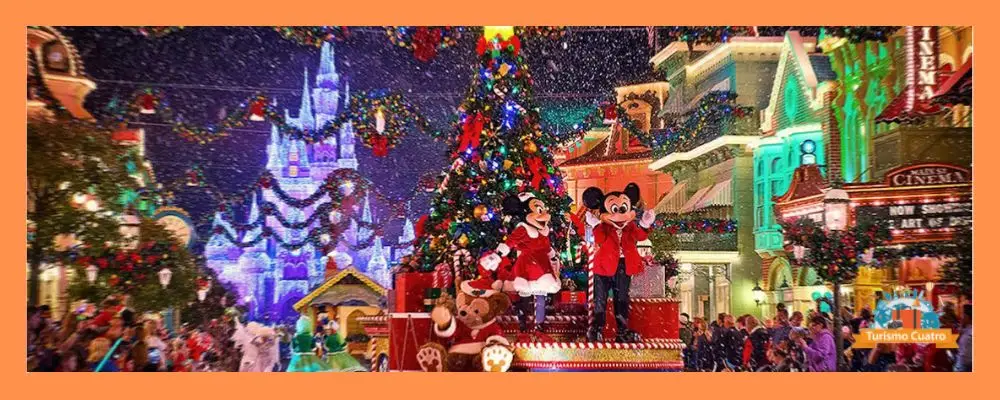 Christmas markets in Paris
There is no better way to let yourself be carried away by the Christmas atmosphere of the capital than by watching The best of each Christmas market in Paris. Do you want to know the essentials? Here they are:
Montmartre flea market – The Christmas Village of Montmartre is filled with 20 stalls that give life to a market that smells of chestnuts, mulled wine and waffles. Ideal to try the typical gastronomy of France and to buy gifts or Christmas decorations. By the way, take the opportunity to see the Sacré Coeur!
La Defense Christmas Village – 300 stalls give life to what is known as the largest and most successful Christmas market in Paris. It is on the Esplanade de la Defense and has everything: from decorative objects to food, performances and surprises.
Alsace flea market – In the middle of the Place du November 11, 1918, during the first half of December, this market allows you to enjoy the products of the French Alsace. Wines, cheeses, sauerkraut, foie gras and much more await you here. There are days when gingerbread is given to children!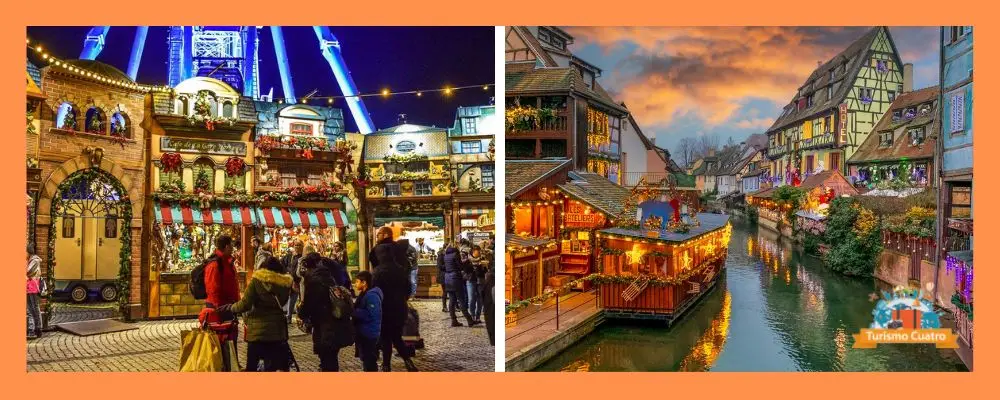 Other plans and activities
Being fascinated with the lighting, with the markets and the usual Parisian Christmas is fine. But why not try other plans and activities to do in Paris at Christmas? The ones we bring you are essential. Yes, capitalized.
Paris night tour – If you want to discover the charm of the least known and most beautiful corners of Paris, we recommend that you take a night tour. Not only will you discover more about the history of this city, but you will also be able to enjoy its great Christmas lighting much more. Interested? Well book your place now!
Visit to the Opera Garnier – An icon of Paris. The Opera Garnier dates from 1875 and has been an essential visit for decades for everyone who goes to Paris. If you want to know what it feels like to climb the Grand Staircase or see the Hall of the Moon and the Sun, think no more. Buy your ticket!
The magic of the Moulin Rouge – Home to some of the biggest artists in Europe, site of the most colorful and popular show in France. The Moulin Rouge is a display of history, culture, art and sensuality that is impossible to resist. If you want something different for Christmas, you can buy your ticket now to enjoy his new show.
Typical Christmas gastronomy
What do you usually eat in Paris at Christmas? What is the typical Christmas gastronomy? In France they are faithful to Christmas turkey and cheese, but they also surprise with their approach to starters and their love for cheese. Look!
petits fours – Petits-fours are never missing from Christmas meals in Paris. They are small sweets that can be of all kinds. Sometimes they are put on the table as starters or to accompany desserts. It doesn't matter when they are placed, because they are never missing!
Cheeseboard – There is no French food without a cheese board. Here there is always a variety, but the usual thing is that there are 6 different types that go from soft to hard. This is your chance to try a good Roquefort, Reblochon, Comté or Brie. They are big favorites for Parisians!
Turkey with dauphinois gratin – Turkey is usually the most common main dish at Christmas in Paris, although it can also compete with salmon for those who prefer fish. What does not change in any case is the dauphinois gratin, an accompaniment based on potatoes cooked in the oven with cream, nutmeg, milk, pepper and salt, all gratin.
buche de claus – The Christmas dessert par excellence in Paris and France. It is also known as a Christmas log, and it is a spongy cake, spread with a cream of your choice and rolled to get that log shape, topped with an extra cream spread on the outside. It can have different fillings, but that base never changes. And it's delicious!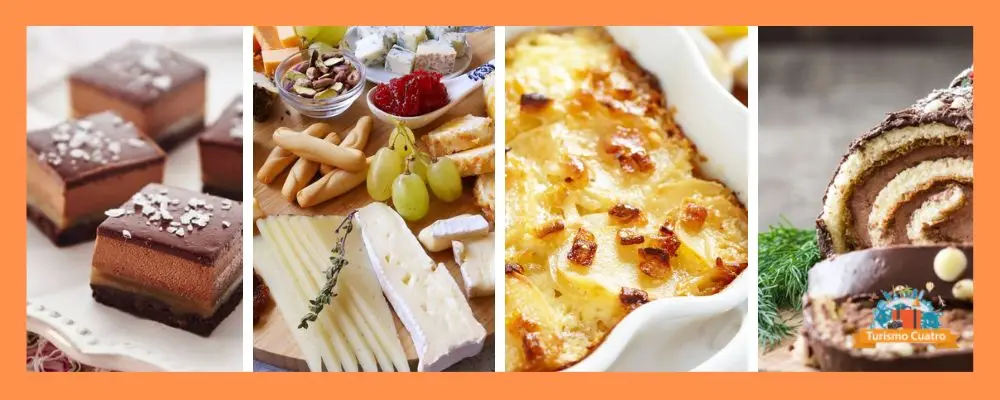 Travel deals to Paris at Christmas
You already have the plans, you already have the body made. You only have one more thing left to do, see deals on trips to Paris this Christmas and finish taking your flights and hotels at good prices.
You must bear in mind that we are talking about an expensive city, and more so on these dates when it is decked out. You will have to pay more than to visit other parts of Europebut we bring you some proposals that may interest you.
For example, with Vueling you have flights from Barcelona to Paris for a minimum of €24 per trip and person. Not bad, especially considering that the same journey, to and from Malaga, starts at a minimum of €25, as in Seville, and the €57 in Madrid.
and how are the Paris hotel deals at Christmas? Here, the variety is served. You can find 3-star hotels like the Quartier Latin for €195 per night or the Hotel De France Invalides for €162 per night for two people.
Do you want to pay less? In that case, there is Hotel Des Andelys with 1 star at a price of €53 per night for two people, or the 2-star Transcontinental Hotel for approximately €82 per night.
The price ranges are immense, so it is best to Look ahead and take advantage of possible flash offers. It is the best way to save the most on your Christmas trip to Paris.