Namibia tourism: Travel guide
Namibia is one of those destinations that I recommend going to even once in your life. It may surprise you and you may think that it is not a safe country, but the truth is that it is and that, in addition, it is one of the most beautiful I have ever seen. He
tourism in namibia
It is becoming more and more fashionable. So here is my travel guide.
And, I assure you, traveling to Namibia is always a good idea. I tell you everything you need to know.
Namibia Map: Where is it?
Namibia is a city that is growing and modernizing every time it passes.
It has an extension of 824,292 kilometers squares and is located in the southwest of Africa.
This country limits to the north with Angola, to the south with South Africa, to the east with Botswana, to the northeast with Zambia and to the west with the Atlantic Ocean. You should know that most of its territory is desert.
What is the capital of Namibia?
The capital of Namibia is Windhoek and has 250,000 inhabitants. It's a pretty laid-back town, and you'll actually be surprised at how European it appears to be. It is possible that this is because of the old 'remnants' of the German colony that was many years ago.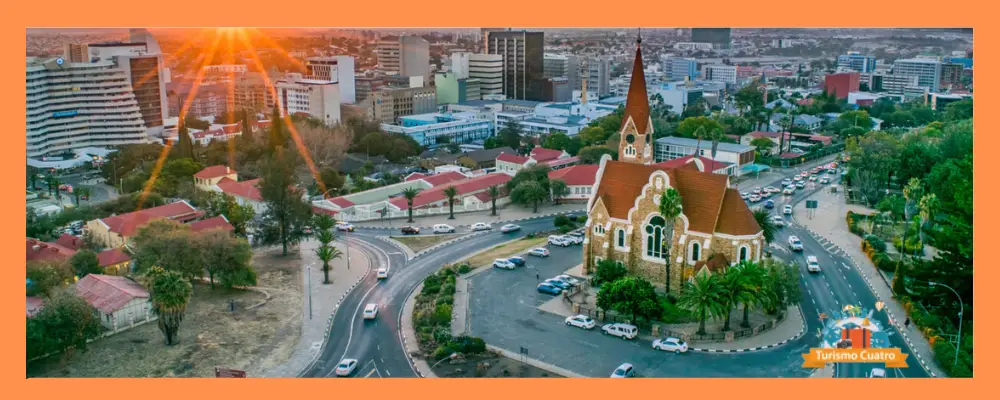 Moreover, you will see how in the shop windows you can find the prices in euros. It is not surprising. The atmosphere is more of a European city than an African city.
Weather in Namibia
You should know that the temperatures in the summer months are very high, yes, at night it cools down a lot. The same happens in winter, the nights are very cold while during the day it is usually great in terms of temperature.
The The best time to travel to Namibia is from April to October.. Yes, don't be surprised. Being in the southern hemisphere, winter is lived there in these months. And it is that from November to April is when the greatest amount of rain also tends to occur and, in addition, the temperatures during the day are too high.
What are the languages ​​used in Namibia?
Despite the fact that the official language of the country is English, the truth is that it is not the most widely spoken. Many of its inhabitants continue to maintain their own language. He Afrikaans It is the most spoken followed by Oshiwambo.
Even so, you will be able to find those who speak English or German (since the country was colonized by the Germans for many years).
Namibian flag
The namibian flag It was created in 1990, so it is relatively new. It is divided in two diagonally by a red band with white borders. One part is blue, with a twelve-pointed sun, and the other is green.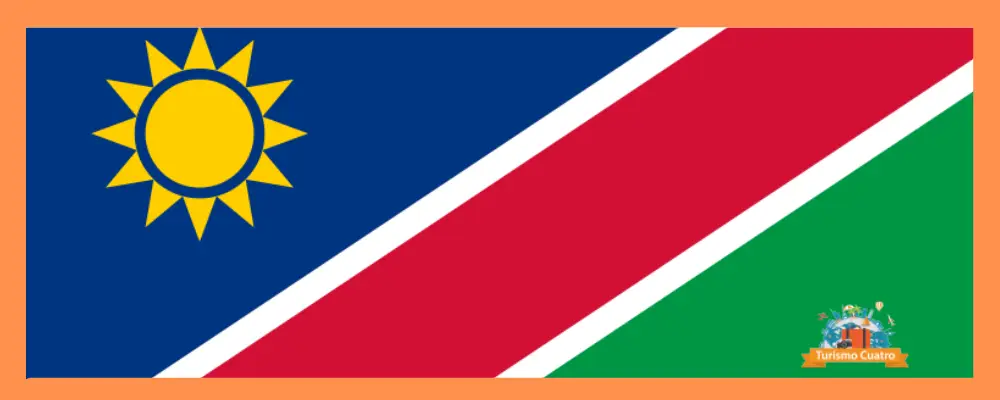 What to see in Namibia
I am going to divide this section into the essential things in Namibia that you cannot miss:
namibian safaris
Fancy going on safari? It really is one of the must do Namibia things to do.
You should know that the etosha national park It is the main one and has an area of ​​22,000 square kilometers. Here, 114 different species of mammals live and, in fact, the largest population of black rhinoceros and cheetahs in Africa lives.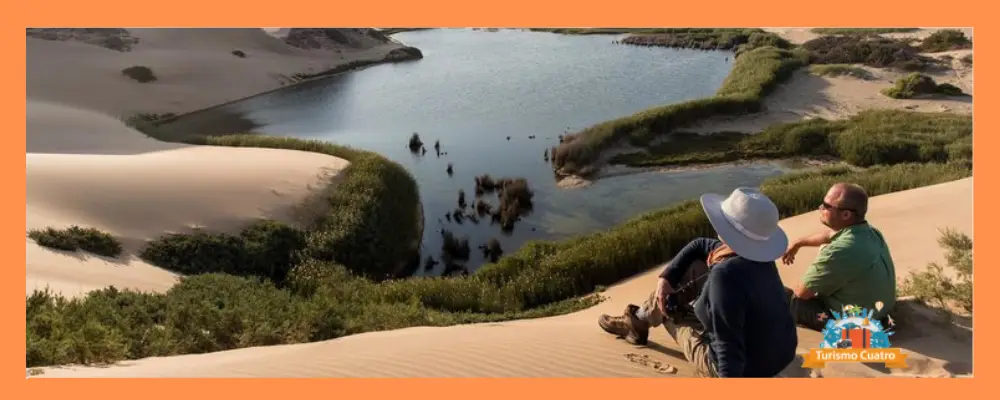 Namibian beaches
Yes, believe it or not Namibia also has beaches. The most famous (and glamorous) is that of langstrand. Well, it really is a tourist center where there are plenty of luxury hotels.
Even so, the rest of us mortals can also go see it to escape the sweltering heat. She lies between Swakopmund and Walvis Bai.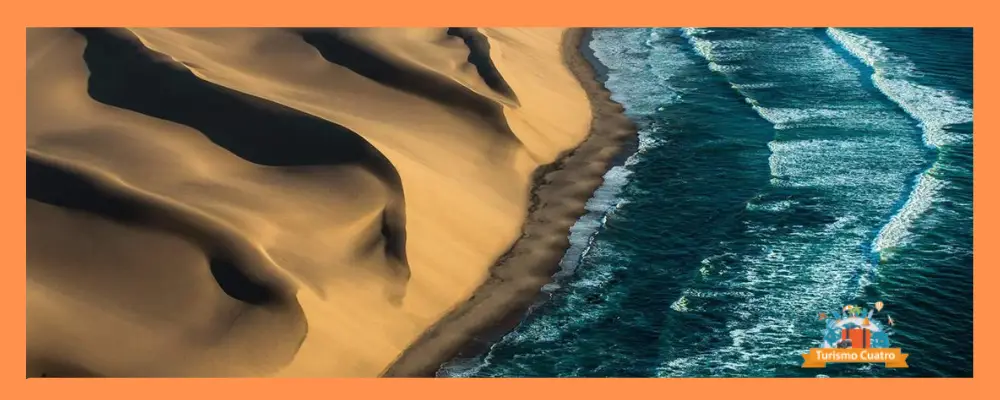 Another important seaside town is, in fact, Swakopmund. This city was a German colony and its legacy is still maintained quite a bit. And, also this area, is the Skeleton Coast.
⚠️ HEY, ARE YOU GOING TO TRAVEL SOON?
Another of the places that you cannot miss in Namibia. Here, the desert meets the sea and has witnessed shipwrecks or whales.
And finally, I want to talk to you about Cape Cross. It's not really a beach but you can't leave Namibia without seeing it either. The largest colony of sea lions gather here and during the month of December, the breeding season, up to 100,000 can gather there.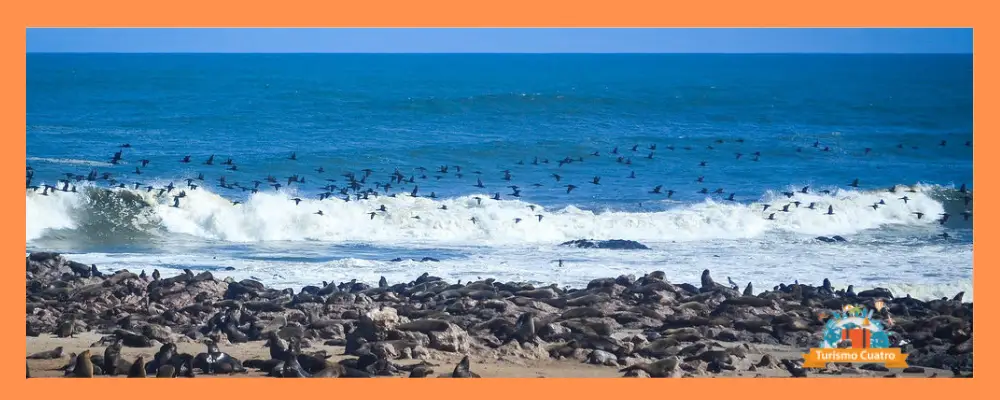 Deserts, strengths of Namibia
And yes, from the sea we went directly to the desert. Another of the strengths of the country. He namib desert is the best known.
It is also said that it is the oldest desert in the world and that it already existed for more than 65 million years. Here, its dunes of up to 300 meters of altitude stand out, in the area of ​​the Namib-Naukluft National Park.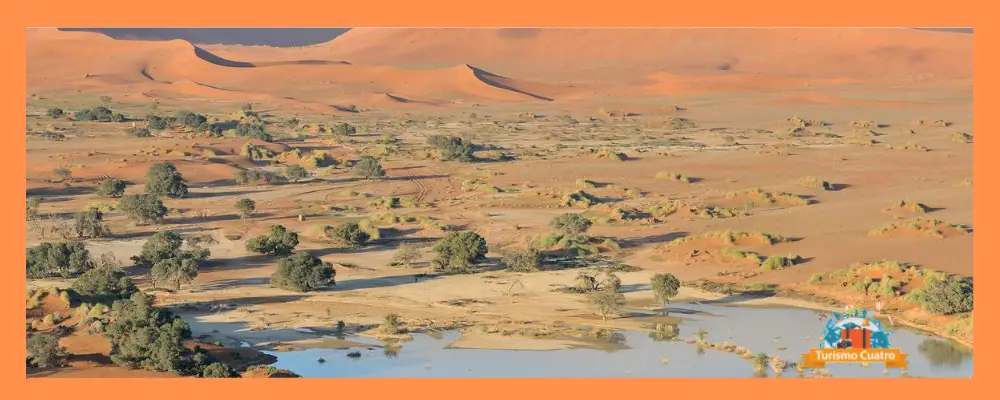 And I also want to talk to you about deadvlei. One of the most photogenic places that is also found in this desert (specifically in the park).
These are desiccated lagoons that are surrounded by red dunes and in which mummified trees are located due to dehydration. They date from up to 900 million years ago.
Flights to Namibia
The flight from Madrid to Namibia, specifically to its capital Windhoek, lasts approximately 15 hours with a stopover. Keep in mind that you will not be able to go from the Spanish capital to there by direct flight.
As for the price of the plane ticket to Namibia, it will depend, a lot, on the season and the company. You can find from 500 euros per person to 1500 without problems. Round trip. If you catch it with better time.
Accommodation in Namibia: what options do I have?
There are many people who choose rent a 4×4 with a shop at the top to enjoy Namibia's air. Even so, if you are not one of them, you should know that the country is quite touristy and that it will not be difficult for you to find good accommodation.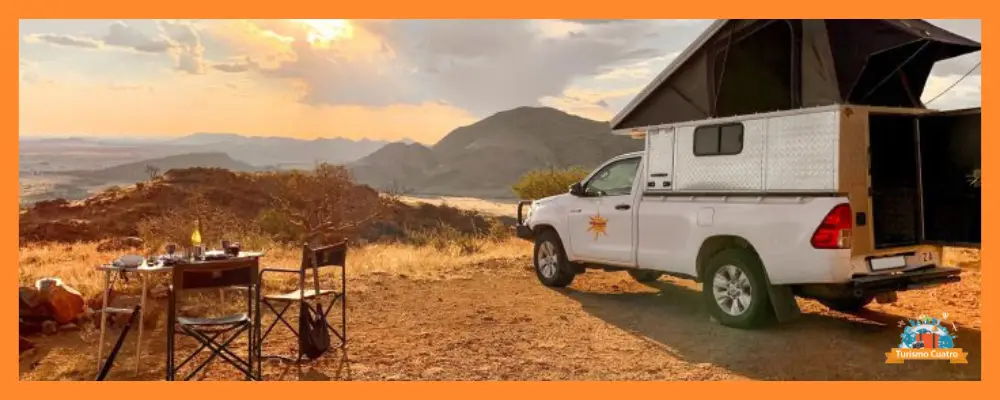 In fact, there are hotels from the capital itself to those that are almost lost in the middle of the desert. It is a large country, so our advice is to look for several accommodations in different areas.
So you will have everything closer. From booking You have it quite simple since you can ask that it offer you the hotels by zones.
The average price is around 95 euros per night in a double room. The most recommended places to stay are the capital itself, Etosha, and the city of Swakopmund.
Tips for visiting Namibia
I tell you other points that you should take into account:
Book the trip in time
It is important to do so that the ticket is as cheap as possible. And more, if you want to do it with a company that offers you good service. A very good option is Qatar Airways.
The same goes for hotels, safari days or desert tours. The sooner you take it the better since you can run out of places.
Rent a car in Namibia
The most common is to hire a 4×4 car. Even so, if you rent a 'normal' car, you won't have any problem either, since you'll be able to go quietly. Obviously you're not going into the desert with him. So hire the one you feel safest with. By the way, you can do it directly at the airport.
Mandatory vaccinations for Namibia
You must have the basic ones (you probably already have them) such as triple viral, tetanus, diphtheria, hepatitis B and meningitis. They also recommend Hepatitis A and typhoid fever.
Even so, it is best that you go to the International Vaccination Center of your city and right there they will tell you which ones are necessary.
Adapter for Namibia
You have to buy it, the plug from Spain is not worth it. You can get it before your trip or when you arrive at the airport (more expensive). Even so, in the main cities you can find it without problems.
And, most importantly, enjoy your trip! As I told you at the beginning to do tourism in Namibia It is a true dream for adventure lovers. You will love it and you will fall in love in equal parts.