Madagascar tourism | tourism four
Are you thinking of traveling to Madagascar? Tourism in this area is undoubtedly a unique experience that I, at least, recommend. And it is that, as you already know, I am an unconditional fan of these trips in which the resorts and the comforts are far away.
But beware, as in every destination, there are options for all tastes and, of course, you can also find luxury hotels in Madagascar to stay. My goal is that with this travel guide you can learn everything about this incredible island.
Shall we prepare the suitcases?
Where is Madagascar?
The first question is mandatory, isn't it? Surely we have all heard of Madagascar at some point, but we really have no idea where it is located.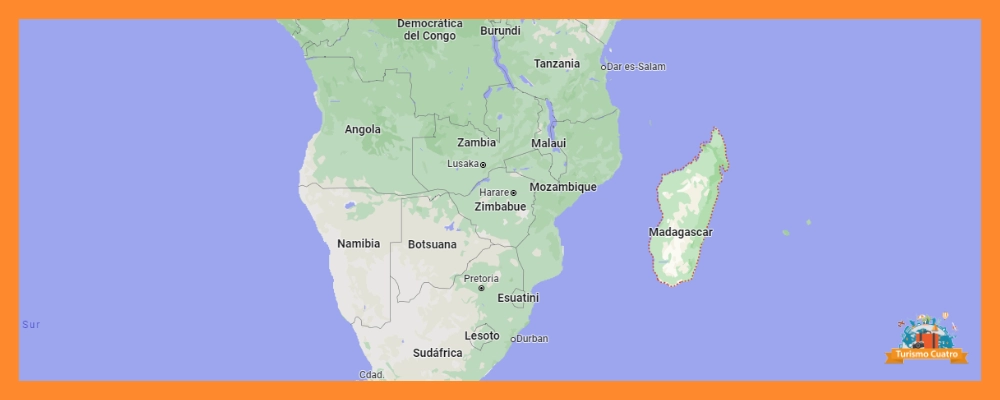 Well, you should know that Madagascar is the largest island in all of Africa and, in this case, it is surrounded by the Indian Ocean. It is separated from the great African continent by the Mozambique channel.
Believe it or not, Madagascar is quite big. In fact, it has an extension of more than 587,000 square kilometers.
Which is his capital?
The capital of Madagascar is antananarivo. This town has a population of more than 1,400,000 inhabitants. And with that, it is the most populous capital in all of Madagascar.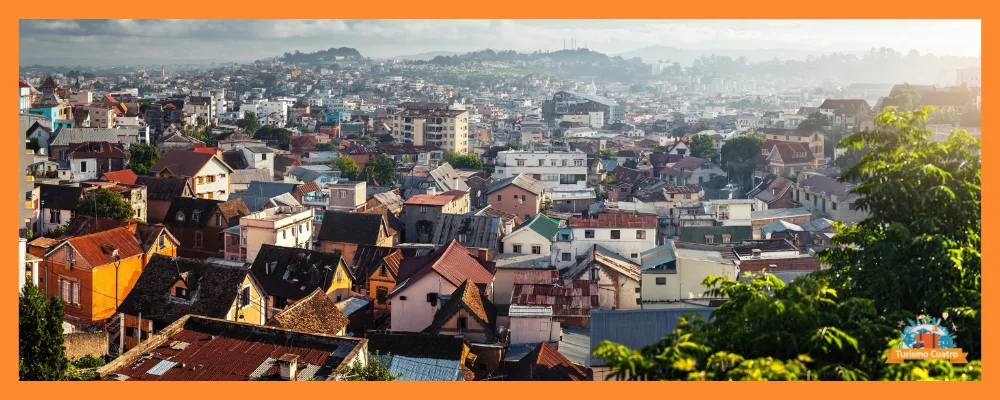 Antananarivo is located in the center of the island, 145 kilometers from the eastern coast. Believe it or not, it is a very modern city and the management of the entire island is located here.
Language
The official language of Madagascar is Malagasy. In fact, it is spoken by the vast majority of the population. Of course, it shares importance with another of the official languages, the French.
And, as you can imagine, in the most touristic places you can easily find people who use the English to address you.
Currency
The currency of Madagascar is the Malagasy Ariary (abbreviated as MGA) and has been present in the country for a relatively short time, since 2005. As you already know, the change depends a lot on the moment in which you are going to travel.
Of course, at the time I write this post the change is equivalent to 3,450 MGA for each euro.
Climate
You should know that in Madagascar the climate is quite variable. In fact, two seasons can be highlighted. The first one, one more hot and rainy that goes from November to April and one more cool and dry which runs from May to October.
The East Side It is, without a doubt, the rainiest. This has its positive side since there are the most beautiful forests on the island. Of course, tropical storms are also common.
The downtown area it is the coldest and driest and this is where most of the island's agriculture is found. In it south, is where the driest area occurs and the most desert areas are found. In fact, it hardly rains here.
Transport
The best way to get around Madagascar (outside of its capital obviously) is on the taxi brousse, local transport. They are vans that sometimes come to look like real buses.
You also have the possibility to do the journey with 4×4. Of course, in this case you have to be clear that it is much more expensive and that what is usually done in these cases is to share it with other travelers. The idea is not so bad if what you want is to go wider and calmer.
travel to madagascar
I will tell you more about your trip:
Flights and offers
The price to Madagascar I already warn you that it is not very cheap. So, as I always tell you, watch it with time!
From Madrid
The price ranges from 500 to 1300 euros round trip. As for the flight time, it is between 2:00 p.m. and 10:00 p.m. You should know that there is no direct flight. Come on, you're going to have to make at least one stopover on your trip.
The main airlines that fly from Madrid are Ethiopian Air, Air France and Turkish Airlines.
From Barcelona
Here you can find flights between 700 and 1300 euros. In this case, the flight time goes up a little more between 5 and 11 p.m. and, of course, with at least one layover.
Of course, from Barcelona you have more options when deciding on an airline. Apart from the above, you can also opt for Emirates, KLM, Air Austral or Etihad Airways.
Price of the trip, is it expensive?
Well, as I always say, it depends on you and what you want. That is, if your plan is to go backpacking, you will spend much less than you decide to go from one resort to another. It will also depend a lot on the transport you use to get around there and, of course, the gastronomy.
The price of a 'normal' trip (neither backpacking nor luxury) can be between 1200-1500 euros for 15 days or so. From there, you decide.
Madagascar Islands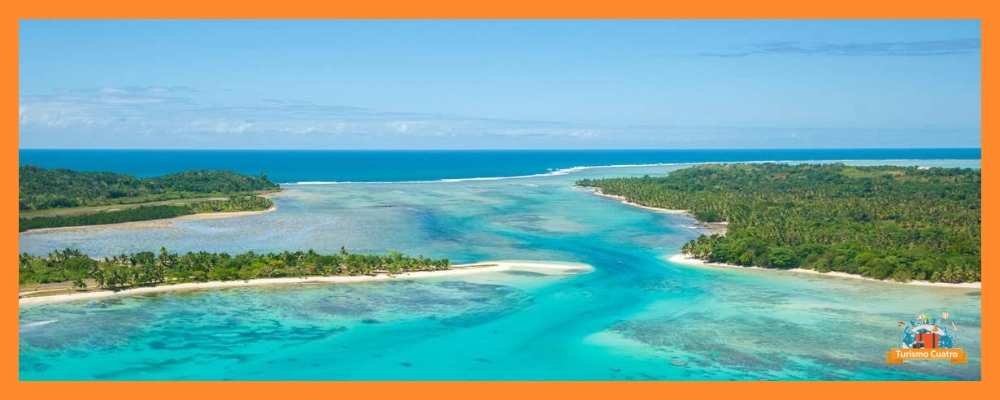 I recommend two that you have to see yes or yes:
⚠️ HEY, ARE YOU GOING TO TRAVEL SOON?
Nosy Be
The landscape is amazing. I'm sorry I'm not being more objective, but it's complicated when you have paradisiacal beaches, lakes and fishing villages with a special magic before you. In addition, it also has some reserves where you can see lemurs.
Come on, in a short space there are endless different things to see. Give it a couple of days minimum.
saint marie
This beach is more touristy but it still maintains a natural attraction that you will surely like. It is the perfect place for hiking trails and to enjoy its beaches and seabed.
This is the ideal destination for snorkelers.
Holidays in Madagascar. What to see and do?
Do you want to discover the essential places in Madagascar? There it goes! I have decided to divide it into three different sections so you don't miss anything.
cities
antananarivo
Without a doubt, the capital is worth a visit. It has very beautiful places such as palaces, churches, museums and markets. It is a modern city but, at the same time, it continues to maintain that touch of previous centuries. Save a day at least to see it.
Morandava
Here you can see the famous avenue of Baobabs and visit the Tsingy de Namoroka National Park (we'll tell you about it later). It is also worth your visit, especially the beach area where you will love the image of the hustle and bustle of the fishermen.
Manakara and the Pangalanes channel
Would you like to take a walk through its canals and through its incredible lagoons? This city is a natural treasure and, of course, I recommend you visit it. The Pangalanes channel measures about 665 kilometers and, obviously, it is enough to do just a little bit to admire its beauty.
diego suarez
Here you will find comments of all tastes. From when it is essential to when it is not worth it. I, particularly, am one of those who thinks that if you have time, why not discover everything? In addition, a very interesting city to discover thanks to its colonial houses and its markets.
ambositra
And finally, we are going to tell you about this city that, despite having more than 28,000 inhabitants, continues to maintain its artisan atmosphere from centuries ago. In fact, its red houses and the ethnic groups that live there make it one of the most curious cities that you will surely see.
National Parks
Undoubtedly one of the strengths of the island.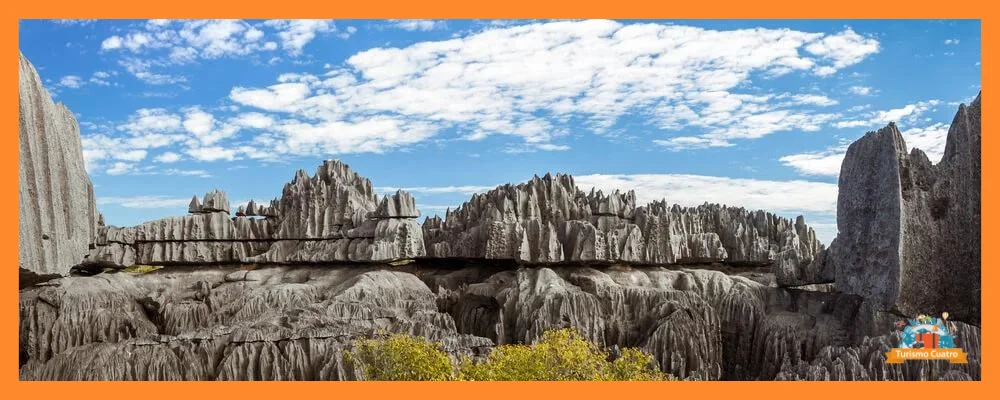 grand tsingy
It is a natural reserve that is considered a World Heritage Site. Entering there is like entering a new universe. In fact, its mountains have been shaped by groundwater into a rather strange shape.
Also, here you can see the famous lemurs.
Anja Reserve
One of the most amazing places. Here you can also meet the lemur and many other species such as. It is the perfect place to enjoy animals in the middle of nature, at your leisure, without stress.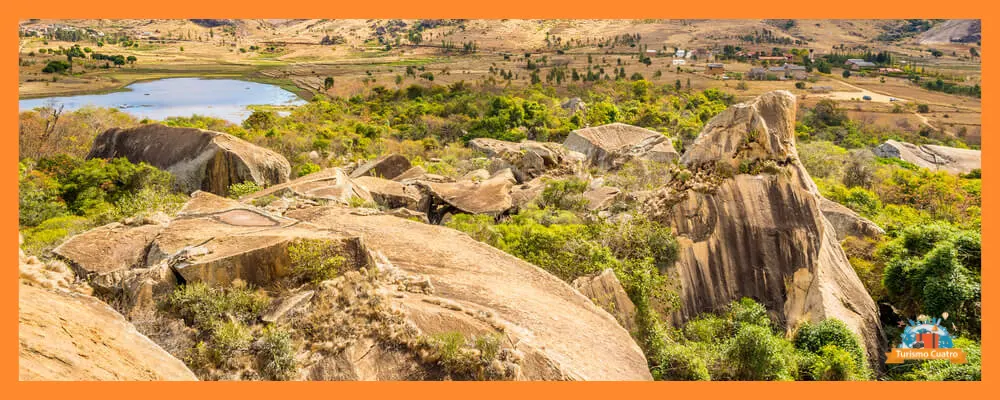 If you like hiking trails this reserve is perfect for you. You will be surrounded by these cute lemurs on all sides!
Mantadia Natural Park
It is not well known by tourists but for me it is also a must. Of course, there are also countless species of animals here (including obviously the lemur). We recommend you to see it with a guide so as not to miss anything.
Analamazaotra Reserve
Here you can see the largest lemur of all, the indri. And not only that, you can also surround yourself with his 'pleasant' cries. Here the guides can also help you discover them so you can take photos and videos of them.
most beautiful beaches
Are you more of the beach? Well, Madagascar also knows a lot about that. I'm talking about the 5 best from my point of view.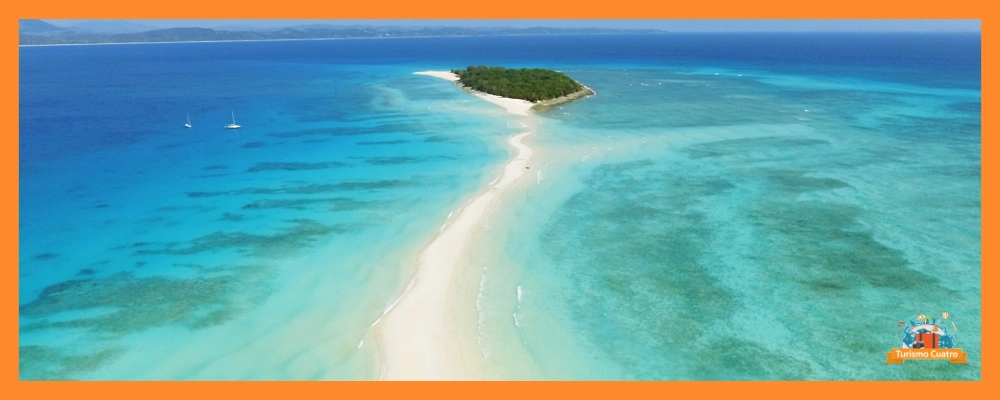 nosy iranja
For me, one of the most beautiful I've ever seen. Natural, almost desert beaches and a seabed that you will love if you like snorkeling. All this surrounded by white sand and a fishing village that will give it an idyllic touch.
It is located in the north of Madagascar.
Tsarabanjina
It is also located in the north and, in fact, it is quite close to the previous one. There are two beaches here: one south and one north. Both are surrounded by a turquoise blue sea that you will love. By the way, they seem to be included in the middle of nature and are the perfect place to relax.
Salary and Manohisoa
Located in the southwestern part of Madagascar, they are the perfect place for those who seek solitude and enjoy snorkeling. This area is practically unexplored and I assure you that it is a paradise.
Ifaty and Anakao
Located in the southern zone, these beaches stand out for their crystalline waters and their famous baobab forest. In addition, you also have the possibility of going sailing with the fishermen and getting to know its incredible seabed with its great barrier reef included.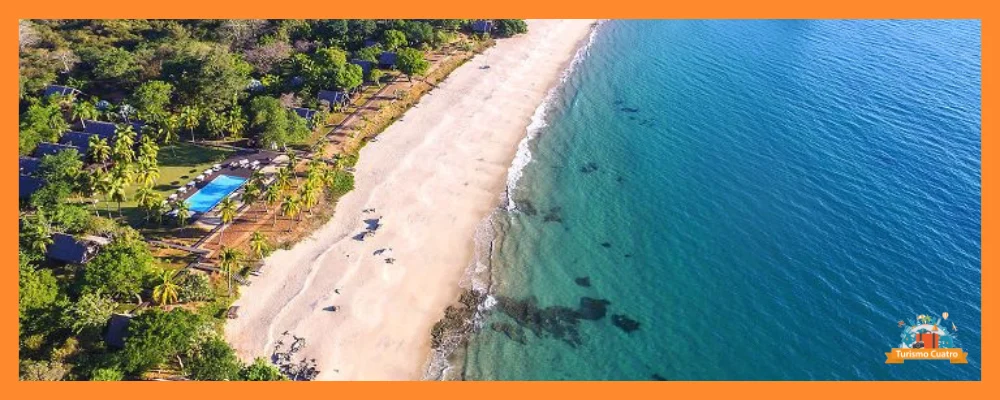 anjanjavy
This islet has from long beaches to small coves where you can get lost and forget about the world. This is where the friendly lemurs and other birds typical of Madagascar live. By the way, here is the biggest hotel offer.
Definitely Madagascar It is one of the most special places you can be lucky enough to travel to. It is one of those trips that you would repeat over and over again and that, we assure you, you will never tire of remembering.