HOW TO GO TO LA GOMERA from TENERIFE ❤️- Travel magnets
You plan to visit Tenerife, you have days to spare and you would like to visit another Canary Island. If so, I have the perfect plan for you. I suggest you get to know a different island, full of trails, nature and rugged landscapes. I'm talking about the small island of La Gomera. In this article I am going to tell you How to go to La Gomera from Tenerifejourney time, prices and all the options you have to get there not only from Tenerife but also from other Canary Islands.
If you are in Tenerife for several days, I propose a plan that I have no doubt that you will love. Cross to the island of La Gomera where the most magical laurel forest in the entire Canary Islands is found. Today I am going to gut all the practical information you need to know about How to go from La Gomera from Tenerife by boat quickly and cheaply.
La Gomera is within the western canary islands. It is one of the smallest, after La Graciosa and El Hierro. Just over 20,000 inhabitants live in it. Few inhabitants already know what it means, right? Unlike other Canary Islands, La Gomera is not so well connected with the mainland or with other Canary Islands. Moreover, it is not easy to get here and the fastest and most comfortable way is to do it from Tenerife by boat. Therefore, if you are in Tenerife I recommend that you seriously consider visiting La Gomera given its proximity. You will never be so close to visiting this Canary Island.
Tenerife has nothing to do with La Gomera. Tenerife is a large island that receives a lot of tourism and with very varied plans. On the other hand, what La Gomera has the most are landscapes, forests, incredible viewpoints and hiking trails. Why not combine the two? Sounds like a perfect plan to me.
Between La Gomera and the south of Tenerife there is barely 50 kilometers by boat. Today we are going to analyze How to get to La Gomera from Tenerife. Sorry to give you a spoiler but the best option is by ferry.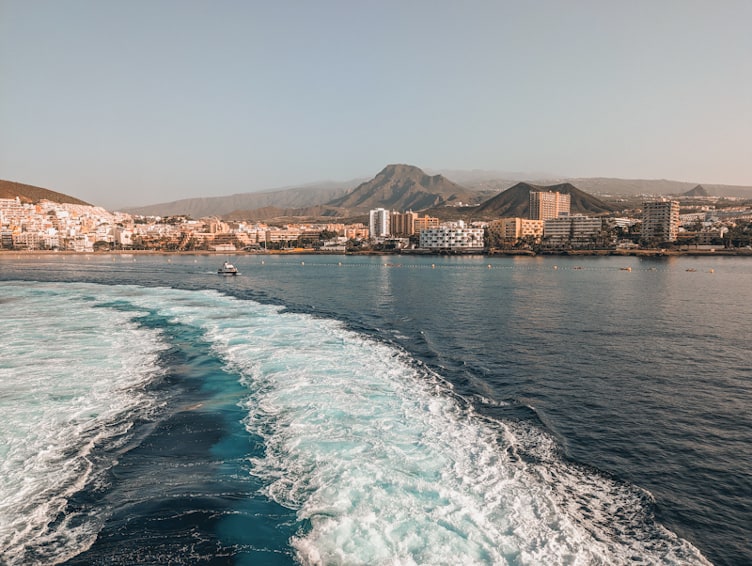 La Gomera: how to get there from Tenerife
The best option for go from Tenerife to La Gomera is the boat. The only port that has a direct connection in Tenerife with La Gomera is the Port of the Christians, in the south of the island. Boats depart from here every day for San Sebastian de la Gomera, the capital of the island. The boat ride is very comfortable and fast. The boats are punctual and the frequency is six boats a day. Have Boat departures from Tenerife to La Gomera at 8:45 am, 9:30 am, 2:30 pm, 4:00 pm, 6:45 pm and 8:00 pm. This route is operated by two companies, Naviera Armas and Fred Olsen.
How long does the ferry from Tenerife to La Gomera take? The Journey time by boat is 50-55 minutes. As you can see, very little. In addition, the walk is very pleasant seeing Tenerife with the Teide in the background. You practically have coverage all the time and it also has a cafeteria on board. You don't have time to get bored on such a short journey. I assure.
And the price of the boat from Tenerife to La Gomera? The price per person and journey costs about 45 euros. You also have to take into account that you can pass the car if you wish. In this case, it is true that taking the car makes the price a bit more expensive, since the car usually costs around 30-35 euros each way.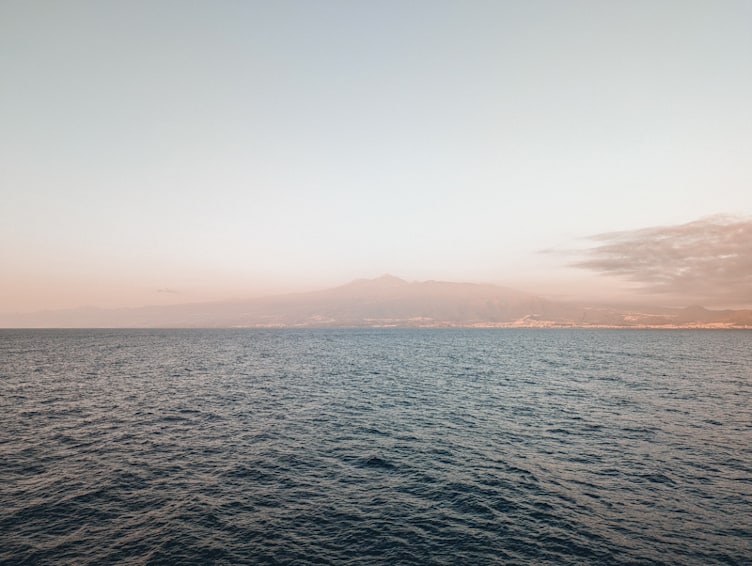 How to book a boat from Tenerife to La Gomera
The best option to find the cheapest route from Tenerife to La Gomera is to use the search engine ferryhopper. Through this web page you can compare prices and schedules and, in addition, book your ticket at no additional cost. You do not have to print it, simply showing the email sent to you when making the reservation on your mobile is more than enough.
We were two days in La Gomera and we rented a car. We took the ferry early in the morning and returned the next day in the late afternoon. ohVery important! If you want to spend the rental car that you know that the only car company that lets you take the car by ferry is Cabrera Medina or Ciclar (it is from the same owners). In the others it is not allowed. I recommend you go to the port at least 30 minutes in advance, if you are going to spend the car a little more.
Summary of how to go from Tenerife to La Gomera:
Port of departure:

Port Los Cristianos.

port of arrival

: Port of San Sebastián de La Gomera.

Journey time

: approximately 50 minutes.

Pferry boat

: 45 euros per trip and person.

Price of passing the car: about 33 euros more each way.
to do the return journey from La Gomera to Tenerife there is the same frequency as the outward journey, 6 journeys. In this case the departure time is at 7:00 a.m. (two boats), 11:30 a.m., 2:00 p.m., 5:00 p.m. and 5:30 p.m..
&nbsp
How to go to La Gomera on an excursion
Another option that I find very interesting to tell you about is visit La Gomera as an organized excursion from Tenerife. In this way, you save having to spend the car on the ferry and you can visit the essentials of the island comfortably by bus. It is true that in this way you miss some more off-road places, but you will get to know the most famous ones.
Also, the best thing about this option is its price. Practically it is the same price as just round trip boat tickets. Includes transfer from the north or south of Tenerife to Puerto de los Cristianos, round trip boat, bus transfer around La Gomera and lunch. Take a look at the price and compare. Going by boat and passing your rental car gives you a lot of freedom, but If you want to go just one day this is your best option.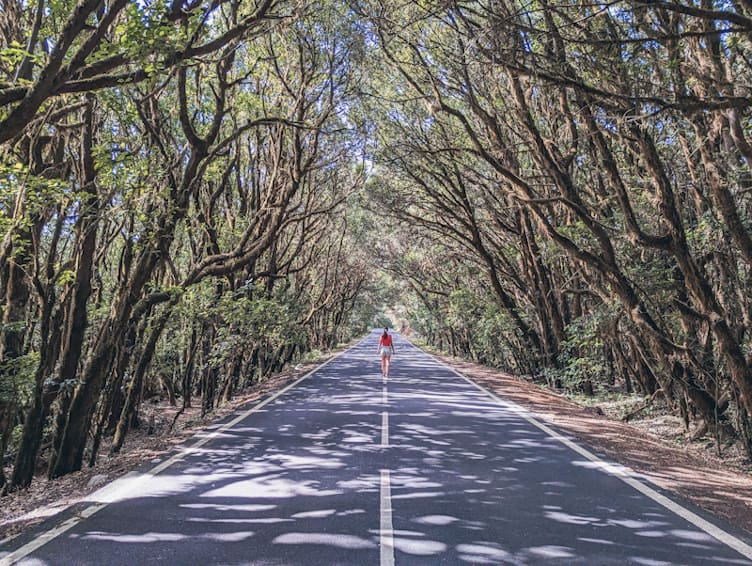 How to get to La Gomera by plane
Another option is to get to La Gomera by plane. Although There are only direct flights from Tenerife or Gran Canaria. To do this, I recommend that you take a look at the skyscanner website. The company that operates these routes is Binter and the duration of the flight is just 30 minutes.
if you're looking for How to get to La Gomera from Madrid or from other parts of the peninsula, I'm sorry to tell you that there are no direct flights. You will have no choice but to fly to Tenerife or Gran Canaria and from there take another short flight to La Gomera.
What to do in La Gomera
La Gomera is a lush island, with lots of forests and cliffs. An island where what stands out the most are its landscapes. But beware because they are brutal. These are the places that I recommend you visit.
San Sebastian de La Gomera. The capital of the island is closely linked to Christopher Columbus. The reason is none other than during his first trip to America, eager to explore the west, he made his last stop here.
Garajonay Forest It is the most amazing place on the island. Definitely well worth the trip. It is one of the most beautiful forests I have ever been to. The laurel forest is what makes it so special.
Abrante viewpoint it is probably the most spectacular viewpoint on the island. Although La Gomera is going well loaded with incredible viewpoints. Warned you stay.
Sunset from Gran Rey. We loved the sunset that we experienced from the beach. Did you know that many hippies live here? At sunset they go to the beach with drums and a magical moment occurs. It is the Benirrás of La Gomera.
The organs we were pending. You can only see it from a boat excursion. These are rock formations that perfectly simulate the pipes of an organ.
See cetaceans in freedom. The channel between La Gomera and Tenerife, as well as in the west of La Gomera, it is very easy to see whales or dolphins.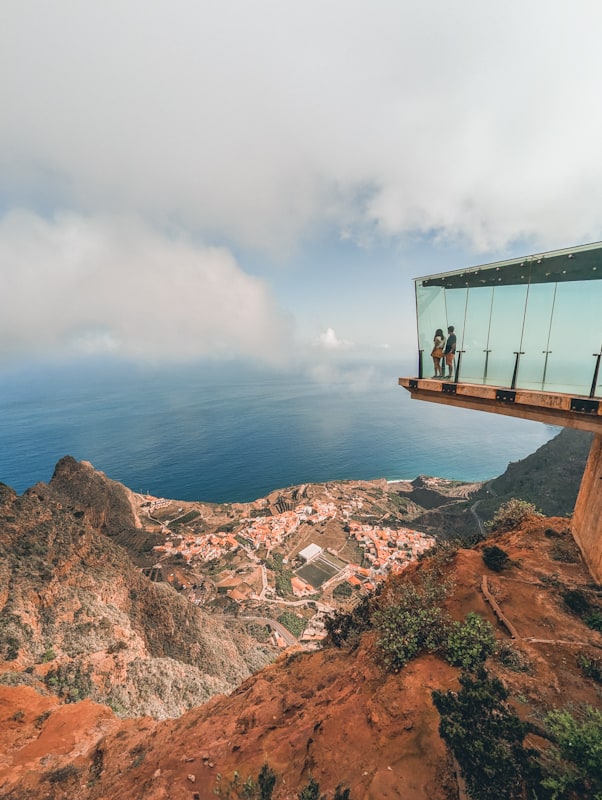 And this has been all I can tell you about How to go from Tenerife to La Gomera by boat. If you have any more questions, I'll wait for you in the comments of this post.
Keep reading other articles about the Canary Islands that may also interest you: