How to get around in Paris? | tourism four
Paris is a huge city, full of life, people and things to do. With such an extension,
What is the easiest way to get around in Paris?
Whether you are visiting or staying, this is the guide you need. Here you will discover everything there is to know about how to get around in Paris.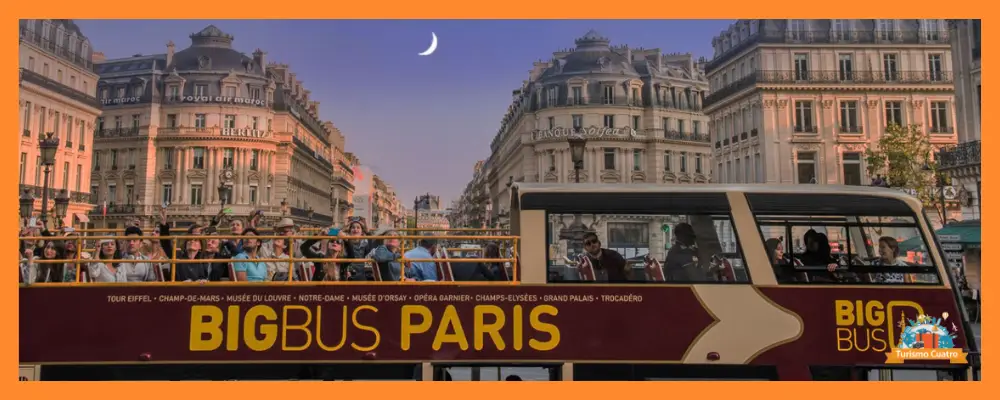 And we are going to see the main public transport options and, furthermore, the best cards, bonuses and tickets What can you buy to take advantage of it? In short, we are going to give you what you need to move around this gigantic city as if you were a typical Parisian.
Public transportation in Paris
Do you want to know how to get around in Paris? What you have to do is simple: use public transport in Paris. In the French capital there is no shortage of options, of course, and here we are going to present them all:
Meter
He meter It is the most famous public transport in Paris there is. It has 16 lines, 200 kilometers of track and is capable of crossing the entire city in a matter of minutes. Both tourists and Parisians use it daily.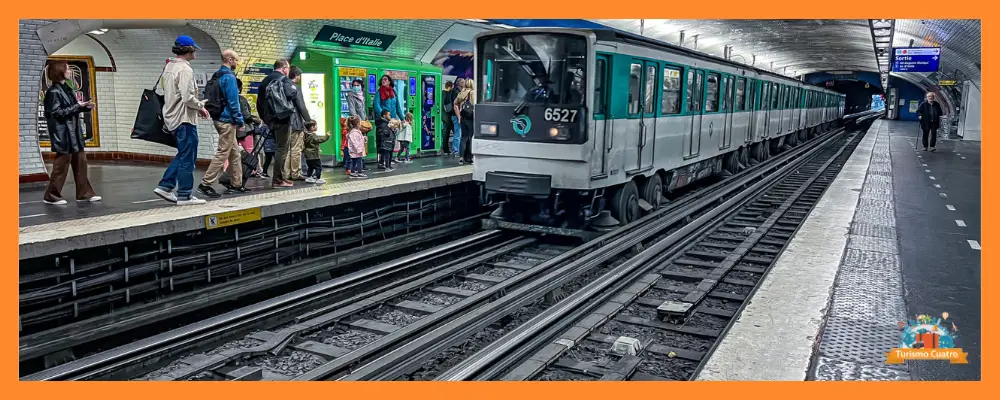 It is safe, although it also depends on the area where the stop is, and it is quite cheap. With a schedule from 5:30 to 1:15 in the morning, extended to 2:15 on holidays, we can also say that it is one of the cheapest options, since a single ticket costs just over €2.
Bus
The bus is the Second favorite public transport option in Paris. It has quite a few lines, and its only drawback is that it is less easy to combine than the metro, and that it is subject to the crazy traffic of the city.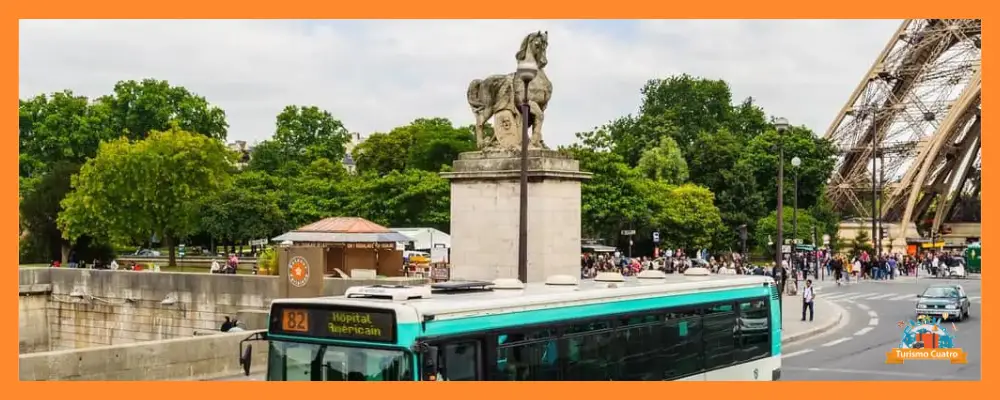 Has interior lines (from 20 to 99) and peripheral (100 to 199), it is another option that is usually safe based on the area through which you move and its price is even cheaper than the subway, costing about €1.90 approximately the single ticket.
Train
From before sunrise, and until midnight, the train can be your best ally for anyone looking for how to get around by public transport in Paris. It is known as RERand has 5 lines that serve as metro in the city and trains in the periphery.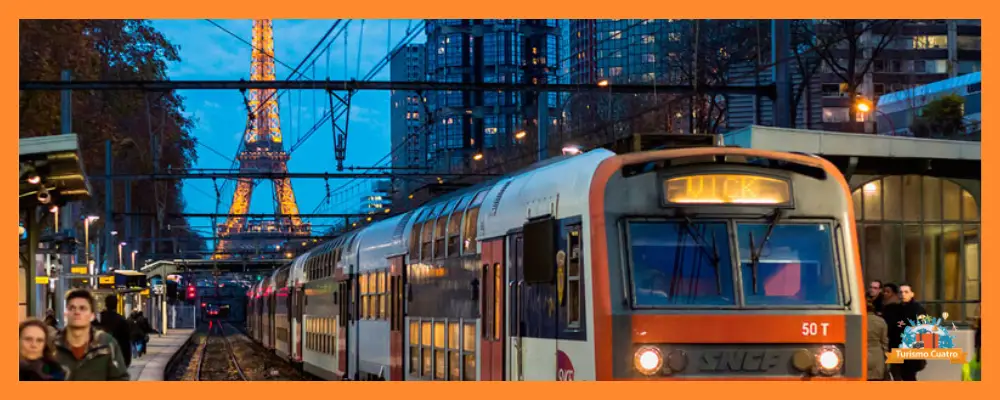 It is connected to the network of the SCNF (the "French Renfe") and with the metro and its price varies depending on the destination. it can cost you less than €2 a ticket.
Trolley car
Old Paris trams They have been remodeled and brought back into fashion. offer up 10 lines different routes that run through both the city and its periphery, identified by numbers and colors like the subway.
⚠️ HEY, ARE YOU GOING TO TRAVEL SOON?
They have very varied prices depending on the destination and the lines you take, but the minimum price is €1.90 for a single ticketthe t+ ticket, which is also used to take the Montmartre funicular and other transport options in Paris.
Cab
Taxis are the option more direct and secure that you have, although they are certainly not the best example for those looking for how to get around Paris on the cheap.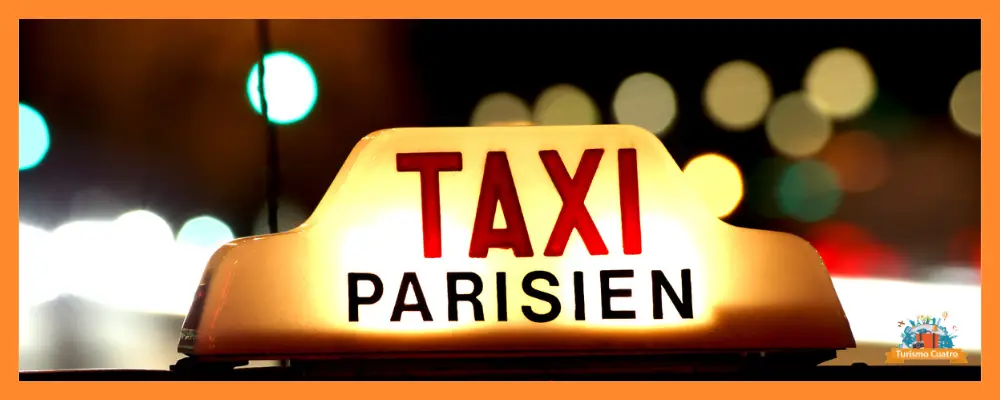 Their rates depend on the areas of the capital that are traveled, the distance and the times. Do not expect to pay little if you get into a Parisian taxi, but do arrive in the most comfortable way at your destination.
Batobus
He Batobus It is the means par excellence to cross the Seine River. It moves through the central area of ​​Paris, making a total of 8 stops that go from the Jardin des Plantes to the Eiffel Tower.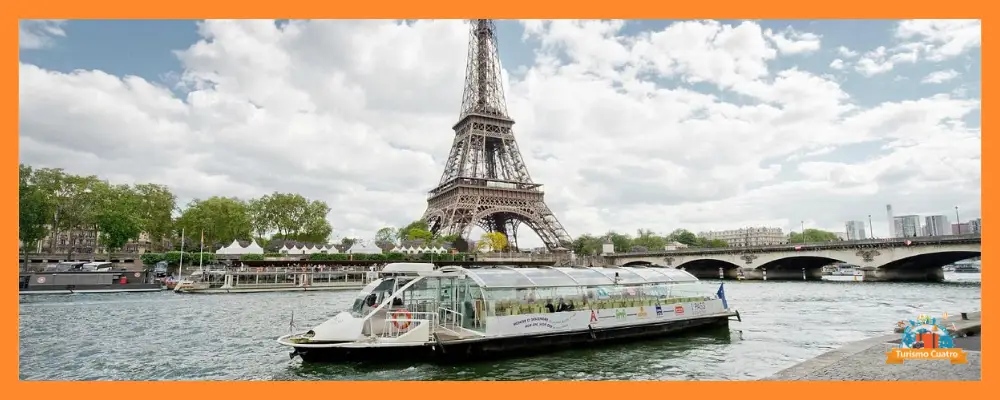 It's totally an option. tour, since its purpose is none other than to take a route along the river, although it can help you discover more about the capital. Its price is around €20 per adult per day and €10 for children.
Transport cards to move in Paris
You know the means, but how are they paid for, what tickets, cards or subscriptions are there? Don't worry about that either. We will review the main transport cards to move in Paristhe most common bonuses and even the most common ticket options:
paris visit
The Paris Visite card allows you travel without limits in a period between 1 and 5 days by metro, train, bus, tram, funicular and more. These are their rates:
Zones 1, 2 and 3:

Adult rate: €12 / 1 day. €19.5 / 2 days. €26.65 / 3 days. €38.35 / 5 days
Child rate: €6 / 1 day. €9.75 / 2 days. €13.30 / 3 days. €19.15 / 5 days

Zones 1, 2, 3, 4 and 5:

Adult rate: €25.25 / 1 day. €38.35 / 2 days. €53.75 / 3 days. €65.80 / 5 days
Child rate: €12.60 / 1 day. €19.15 / 2 days. €26.85 / 3 days. €32.90 / 5 days
The Navigo voucher or card also offers unlimited rides by metro, bus, RER, tram and others, but only for the areas you choose, during a term of 1 week or 1 month. It is the most famous Paris transport card. Their prices are these:
Zones 2 and 3:

Weekly: €20.85
Monthly: €68.60

Zones 3 and 4:

Weekly: €20.20
Monthly: €66.80

Zones 4 and 5:

Weekly: €19.85
Monthly: €65.20

All Paris:

Weekly: €22.80
Monthly: €75.20
Mobilis
He Mobilis subscription It is daily, offering unlimited daily trips throughout Paris and on all means of public transport except special rate lines, SCNF and Orylval reservations. These are their prices:
Zones 1 to 5: €17.8
Zones 1 to 4 or 2 to 5: €12.4
Zones 1 to 3, 2 to 4 or 3 to 5: €10
Zones 1 to 2, 2 to 3, 2 to 4 or 4 to 5: €7.5
Ticket T+
He Ticket T+ is the single ticket for public transport in Paris. It is used to make a journey by metro, RER within Paris, bus, tram, funicular and night buses, with unlimited transfers between RER and Metro, bus lines and buses and trams.
It's purchasable individually or in packs of 10with a cheaper price. These are their prices:
Single ticket: €1.90
Pack 10 Tickets: €14.90
Pack 10 Tickets reduced rate: €7.45
Île-de-France ticket
The Île-de-France Ticket is ideal for travel from Paris to Disneyland or Versailles or for commuter or RER journeys. Its rate is highly variable, since it depends on the station of origin and destination, or the distance, regardless of the areas of Paris.
This is all you need to know about getting around in Paris. As you have been able to verify, there is no shortage of options in transport or cards. It is enough that you are clear about what you need to choose the best combination.