Free kayaking in New York: where and how to enjoy it
Did you know that in summer you can sign up for a free kayak session In New York?
Although the heat is pressing, the city is filled with outdoor plans like this one, which will allow you to navigate the Hudson River or the East River and contemplate the skyline without spending a dollar.
Prepare the oars: we will tell you as enjoy free kayaking in new york!
🌟 New York free. This is just one of the many free activities in the city. Discover them all in the link!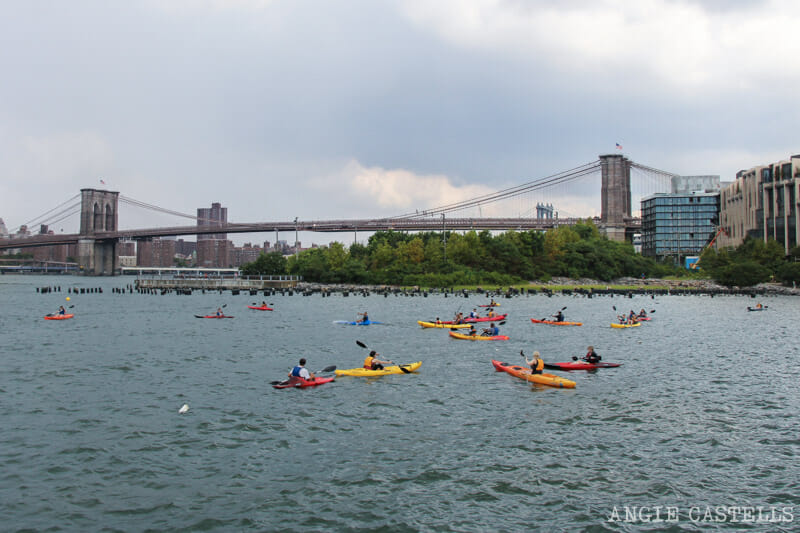 Free kayaking in New York in summer
Docks where you can go kayaking for free in New York
These are the New York docks offering sessions free of kayaking.
They are spread between the East River and the Hudson River.
Pier 26 with Downtown Boathouse (Manhattan, Hudson River). From mid-May through October, the Downtown Boathouse offers free kayak sessions at Pier 26 in Tribeca. On their website you will find the dates, times and instructions.
If you have strength left afterwards, we recommend walk to battery park Following the Hudson River, a lovely walk of about 25 minutes.
Pier 96 with Manhattan Community Boathouse (Manhattan, Hudson River). Starting at the end of May. From this pier, near the Intrepid Air and Space Museum, you'll have good views of Manhattan.
The company that offers this free kayak in New York is Manhattan Community Boathouse.
Pier 4 with Brooklyn Bridge Park Boathouse (Brooklyn, East River). From June through the end of August, the Brooklyn Bridge Park Boathouse offers kayaking sessions at Brooklyn Bridge Park.
This pier is one of the most special, since you sail alongside the brooklyn bridge and the manhattan bridge.
It is also one of the busiest and, for this reason, it is best to book online 2 weeks before the session.
Governors Island with Downtown Boathouse (East River). Maybe you read us recommend this New York island that we love so much: in the Governors Island guide We give you a lot of good reasons to visit it.
But, in summer, you have another excuse. On Saturdays from June through September, the Downtown Boathouse offers free kayaking sessions at the northeast dock on the island.
Louis Valentino Jr. Park with Red Hook Boaters (Brooklyn, East River). The Red Hook neighborhood in Brooklyn is off the beaten path, but we love it and always encourage you to visit it.
And, from June to September, thanks to Red Hook Boaters volunteers, you can paddle with views of the Statue of Liberty.
Free kayak map in New York
Here you have all the docks on the map.
Frequently Asked Questions about Kayaking in New York
When can you go kayaking in New York for free? Depends on the pier, but generally mid-May to Sept-October.
Can I book? Yes, many of the websites allow you to book a free time.
But, if you forget, there is usually no problem: you go to the pier, sign an authorization acknowledging that you know how to swim, keep your belongings in a locker and wait for them to assign you a boat.
There may be a queueespecially on weekends, so we encourage you to go early.
What clothes do I wear? Summer clothes. If you have a swimsuit, even better! Although swimming is not allowed, the kayak will be wet and you will also end up covered in splashes. Water war in sight!
In addition, you will have to wear a life jacket that they provide you right there. There are usually changing rooms where you can change, in case you want to bring spare clothes
Will I come out of the water with three eyes? Yeah, the water in the rivers of New York doesn't produce much confidence... If it's any consolation, we always end up drenched and (still) we have not become mutants.
Can I go accompanied? It is for children? Normally, there are single kayaks and double kayaks. If you are traveling with minor children, they will always ask you to go in one of the double kayaks with an adult.
If you've never been kayaking, don't worry.. At each pier there are instructors who will teach you how to get on and row.
How long is the free kayak around New York? You have 20 minutes to row and walk along the river, although the area where you can navigate is delimited by buoys, and it is forbidden to leave there.
🌟 During this time, you can also enjoy the free cinema in the parks or of the free concerts in new york.
Other plans for summer in New York
In addition to kayaking, a thousand and one other plans await you at this time, which we have compiled in the New York summer guide.
For example:
Do you dare to try kayaking for free in New York this summer? If you do, tell us about the experience!
New York guide updated May 2023.
Trust code. If you buy through some of the links, we receive a commission that allows us to continue writing free, independent New York guides. Thank you!
Other guides you may like