Don Quixote, the store where to buy in Japan
Don Quixote (ドンキホーテ), commonly called Donky (ドンキ) is a chain of stores with a wide variety of products and good prices. You'll easily recognize her by her pet Donpen: a curious blue penguin in a nightcap (which looks like a Santa hat, actually).
Shopping at Donki is crazy, we are not going to fool you, because they are always very crowded. But a very funny madness that we recommend yes or yes. It is the ideal place to buy everything from cosmetics to absurd costumes, as well as curious games, sundries and food.
In fact, it's one of our favorite places to buy Kit Kat in various flavors, as well as curry tablets, flavored potatoes, bottles of Calpis concentrate, noodles… they have a lot of things!
Although the origin of these stores dates back to the 1980s, the truth is that it was not until a decade later that they established their current style. Today they have more than 600 stores in Japan and several abroad.
What are the Don Quijote stores like?
Don Quijote stores are characterized, as we mentioned at the beginning, by their wide variety of products. They are usually quite large, some with several floors (called "Mega-Donki") full of products.
It is common for them to have narrow aisles or boxes and boxes stacked on top of each other. And among so much content, it's easy to get lost... and end up buying things you don't really need!
Also, many of the shops are open 24 hours. And since they are almost a "tourist destination", they have foreign staff who speak different languages ​​and sometimes have specific counters to manage tax-free purchases.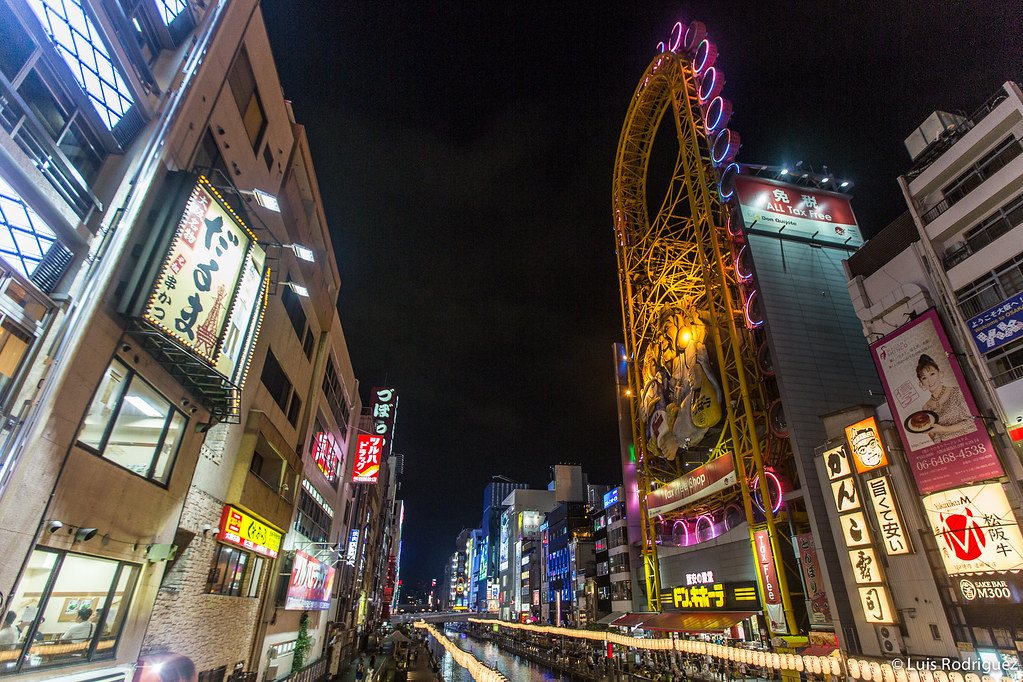 To locate them, simply search for "Don Quijote", "Donki" or "ドンキ" on Google Maps. Or check the map at Donky's website. So, in addition, you can see how Don Quixote customizes his mascot Donpen according to the place where the store is located... she is cute!
Don Quixote recommended
There are two Don Quixotes that you cannot miss on your trip to Japan: one in Tokyo and one in Osaka. We recommend you come and see them, they are amazing!
Of course, if you listen to us and end up buying more than necessary, we are not responsible 🙂
Shibuya Mega Donki (Tokyo): Eight floors full of products of all kinds. Open 24 hours, it will be impossible for you not to buy anything.
Don Quixote in Dotombori (Osaka): If Don Quixote shops are crazy, this one, which has a Ferris wheel on the façade, takes the cake. And if, you can climb.
What to buy at Don Quixote
Below we highlight some of the items you can buy at Donki stores. Of course, we recommend you go with an "open mind", since each Donki is a world. It is fun to look around the store, because you will surely find things that you did not even think existed.
Normally at the entrance you will find the section of food and drinks. In the largest Donki there is a section for fresh products (there are some that have onigiri And till obento), but what interests us is the section of non-perishable products such as ramen instant, curry tablets, chips, all kinds of sauces and seaweed, drinks, etc.
In addition, here you will also find a good selection of flavored Kit Kat, as well as all kinds of sweets, candies and chocolates and other typical Japanese products.
Another of the most popular areas of the Donki is the area dedicated to cosmetics and beauty products. Here you will find everything, from all kinds of creams and skin care products to a wide range of makeup. And you will find both Japanese and Korean brands, highly appreciated for their quality.
Although the best are face masks. They come in different shapes and patterns (for example, a panda bear or a movie actor). kabuki) and can be an ideal souvenir to give when you return to your country.
Near the cosmetics section you will find the drugstore. Here you will find everything from liquids for contact lenses, for example, to vitamins and non-prescription medicines. As well as super curious products, such as the "eye compresses" that we like so much at home.
It is a kind of mask that automatically heats up when you open it and relaxes your eyes. To combat jet-lag or tired eyes from work or allergies. We use them on long flights to Japan and they help a lot.
Also, in all Donki there is a section dedicated to games, toys and miscellaneous items. There it is easy for you to find objects that you can buy to give away as Souvenir or souvenir from Japan.
You can buy anything from a game that shows you the cutting of the tuna, for example, to some chopsticks or a nigiri-sushi costume. Because when we say that there is everything in Don Quixote in Japan… it is that there is everything!
Finally, the Donki usually also have a stationery section (look at the stickers, there are very nice ones), electronics (from plates to takoyaki to machines for nagashi somen), items for the home, home clothes (there are funny socks) and designer clothes with great discounts and even costumes (very popular on Halloween) and cosplay.
Enjoy the madness of shopping at Don Quijote in Japan!