10 things you cannot miss in Menorca
Whenever you talk about the Balearic Islands, the first name that comes to mind is Ibiza. The island is famous for its parties and discos. But there is another one that has a lot to offer and that may surprise you:
Minorca
.
Are you going to visit Menorca and are you looking for the most essential places? Here I am going to give you a list with 10 places that you cannot miss in Menorca. Places that can take your breath away due to their views and atmosphere.
Of course, if you want to get the most out of what this Balearic island offers, I recommend that you opt for a rental car. Even if it's not especially big, you're going to have to move around a lot. I can do a complete route in a few days like this. That's why, I rented a car at Doral Auto Menorca without a franchise that suited me very well. I recommend it if you don't want to leave anything in Menorca unexplored!
Binibeca
You are looking for essential places, and it could not start in a better way than with the most beautiful town in Menorca, Binibeca. A small fishing village full of narrow streets that form a charming white maze full of corners cared for down to the smallest detail.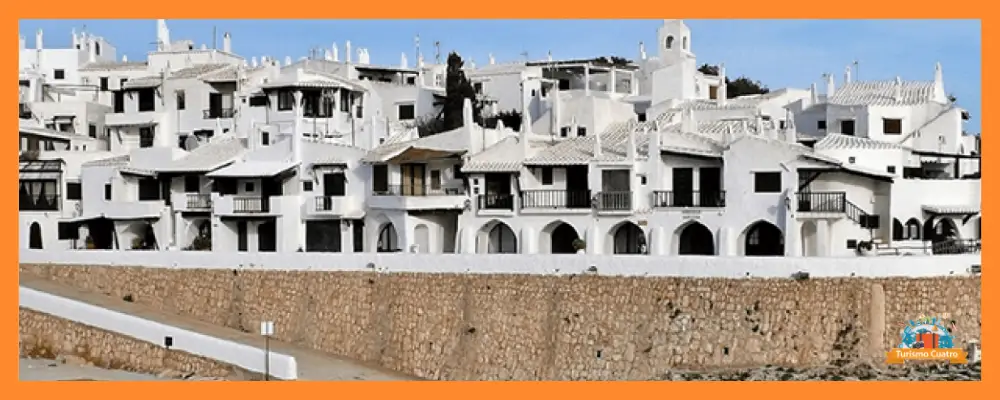 A small town, but ideal for lose yourself walking through tunnels and squares. Its more than 150 houses have managed to become one of the biggest tourist attractions on the island, and no wonder. It is so famous that they have had to fill it with posters asking for silence!
And after so much walking? Well, a good drink and food in any of the pubs What is in Binibeca? They are all ideal, so I cannot recommend any one in particular. You will like whichever you go to.
Cala Mitjana
Cala Mitjana It's not just another cove, it's The Cove of Menorca. It is located in the southern part and has the emblematic Ciutadella less than half an hour away. Its turquoise waters and the virgin nature of its beach are its great charms, which make more and more tourists come every year to discover what it offers first-hand.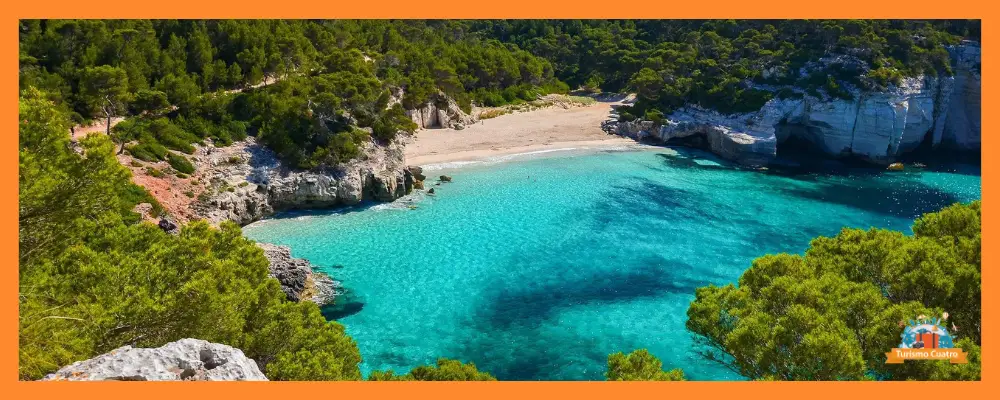 It is not the best place for a swim in high season if you are looking for tranquility, but the views and the surroundings alone are worth it. In addition, if you don't have problems walking, you are close to Cala Mitjaneta and, about 20 minutes away, the Cala Galdana. All of them with postcard waters, with special mention to the natural bay that protects them.
Galdana can also be your option if you are traveling with children and looking for a beach with all the usual services. For a day of water and sun with the familymay be the most appropriate place in all of Menorca.
citadel
What was once the capital of Menorca is, of course, an essential visit. citadel It overflows with charm and invites you to get lost in the streets that make up its historic center. Put on comfortable shoes and immerse yourself inside, you will discover places as beautiful as Plaza del Borne or the Mercat des Peix, not to mention the Cathedral or Castle of San Nicolás.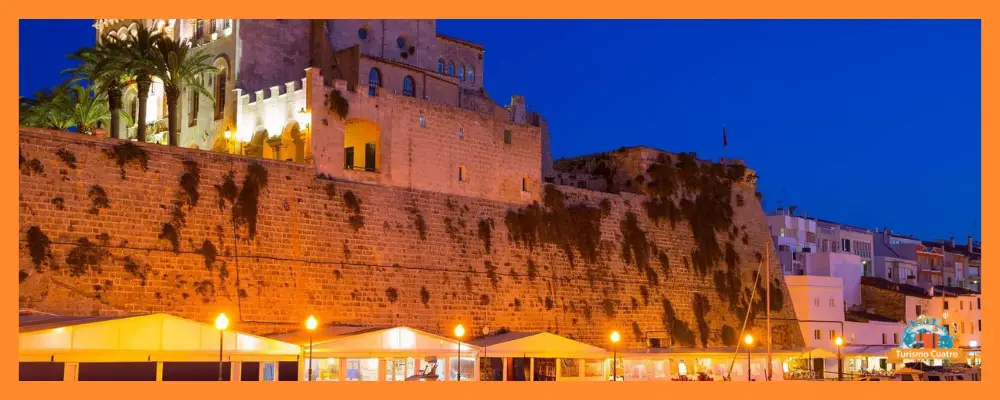 Do you want good places in case you get hungry? Well then go to Ciutadella port. There you have two of the most famous bars in all of Menorca: Café Balear and S'Amarador. The latter has fresh seafood that tastes heavenly.
Even with everything, I advise you to search some guide to learn more about this town and delve into its history. The legacy behind the streets of Ciutadella is incredible, and worth taking the time to discover.
Just 5 kilometers from the beautiful Ciutadella you can see the most important prehistoric monument in all of Menorca, the Naveta des Tudons. It is a funerary tomb that was used for more than 400 years between 1200 and 700 BC
In addition to being fascinating due to the Talayotic architecture that shapes it, its history is imposing, especially when you discover that inside they found more than 100 human remains.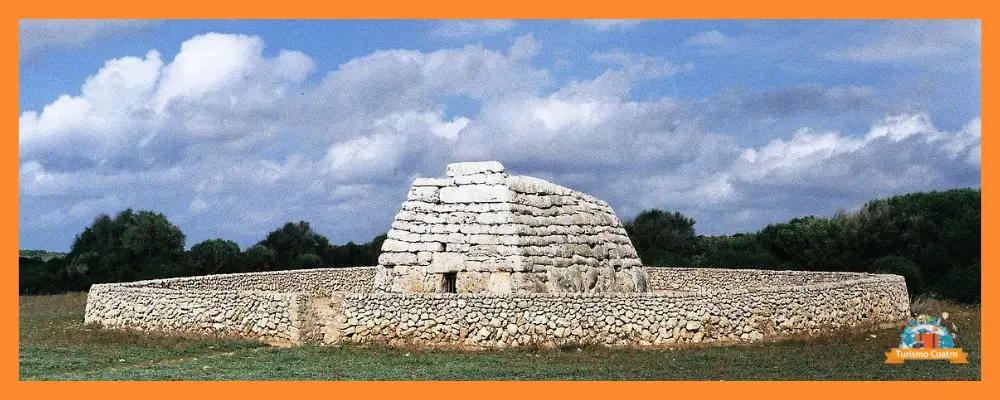 It's like a sea ​​ship upside down made of stone blocks with nothing to hold them together. It may not be imposing, but it has been a candidate for World Heritage Site several times and is one of the oldest fully preserved buildings in all of Europe.
A totally obligatory visit if you also want to squeeze the most cultural side of Menorca, without a doubt.
Mahon
of course, Mahon, the other key city of Menorca. Its historic center attracts a lot of attention due to the British style of its architecture and its seaport is what attracts the most tourists for being one of the best natural ports in the entire Mediterranean Sea.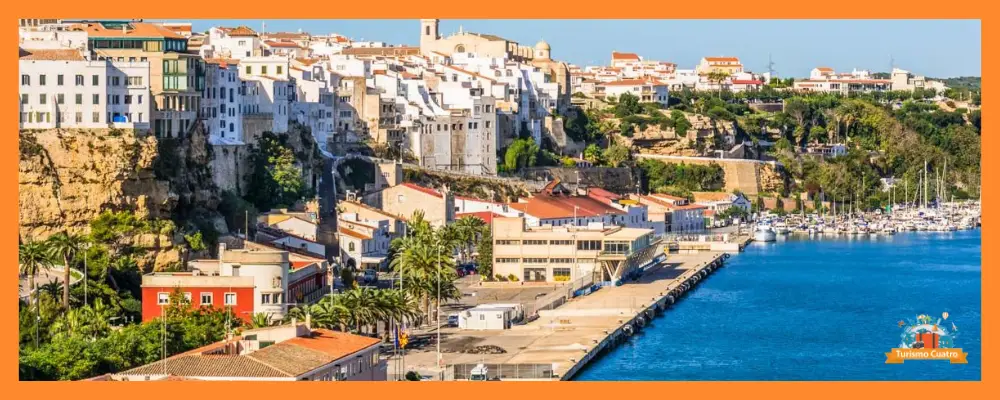 If you dare to visit this city, you will need almost a whole day to discover its main points of interest. You cannot leave here without visiting the Church of Santa María, the Fortress of La Mola, the Bastion of Sant Roc or the city hall.
⚠️ HEY, ARE YOU GOING TO TRAVEL SOON?
oh! You can't leave without trying the Mahon cheese, with protected designation of origin. You will find many in the capital, although you can also find him in the properties that are scattered throughout Menorca.
Favaritx lighthouse
Do you want to enjoy a postcard sunset? In that case, stick with the time at which the Sun sets and, an hour before, try to be at the Favaritx lighthouse that there is in S'Albufera des Grau. Of the 7 lighthouses in all of Menorca, it is the most beautiful and famous of all, mainly for the beautiful sunsets that accompany it.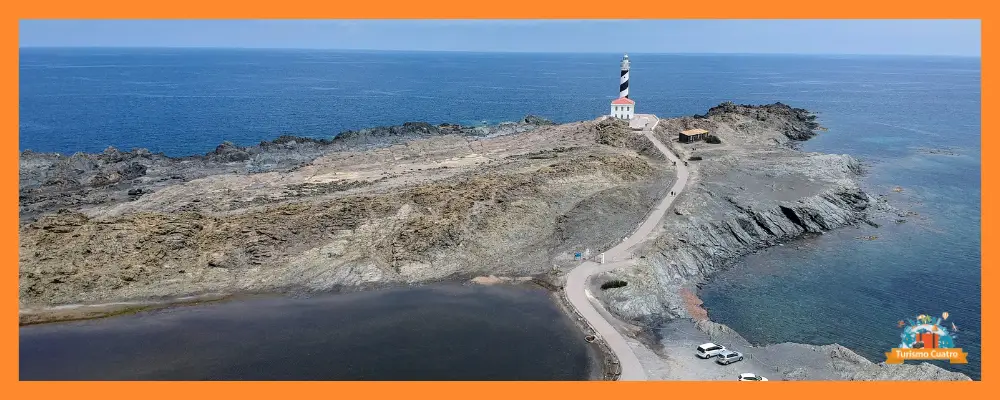 Around it you will see a lunar landscape full of cliffs and no vegetation. Although you will also have close Presili Cove and Tortuga Cove, two beautiful places where you can take a good dip. If possible before sunset (You'll have to come again!).
If you want to make the most of the day in the area and discover the charms of the S'Albufera natural park, you can go to the Information Center nearby and ask for maps to do any of the three hiking trails that run through its landscapes. An ideal plan if you like to surround yourself with nature.
Ascent to Monte Toro
If you want to see the best views in all of Menorca, you will have to put on some good shoes and prepare to climb up to 358 meters above sea level. That is the maximum height of the mount bulla place from which you can get to see the island of Mallorca in the distance while you have a drink in the bar-restaurant that it has.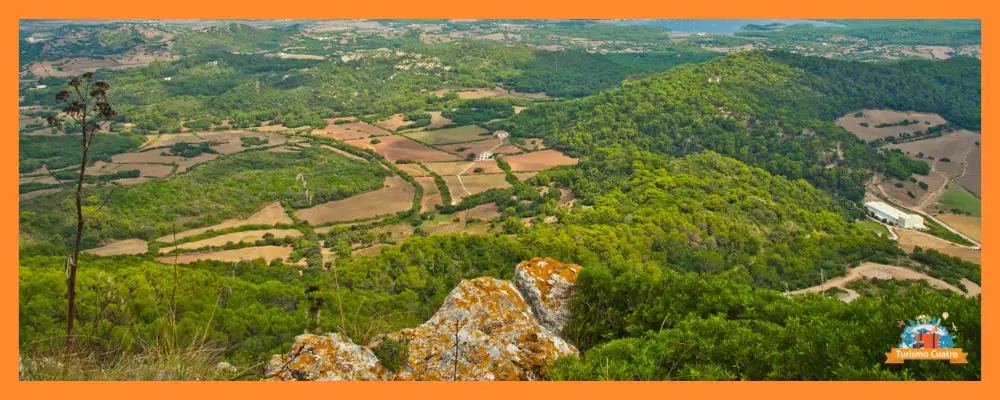 actually you can reach the top by car if you prefer, since the accesses are quite good. If you dare, here you can also find the Sanctuary of the Virgen de Toro, which dates from the 17th century and is famous in Spain for the wood-carved virgin inside.
By the way, after going down the mountain, you can try one of the best ensaimadas in all the Balearic Islands if you visit Cas Sucrer, in the town of Es Mercadal. Although be careful, when you try one, you can not stop eating them.
Lithica
Some know them as Lithicabut it is possible that they talk to you about them as Pedreres de S'Hostal. It is, without a doubt, one of the greatest charms of Menorca. A quarry from which the sandstone was extracted, with which most of the traditional houses in the area were built.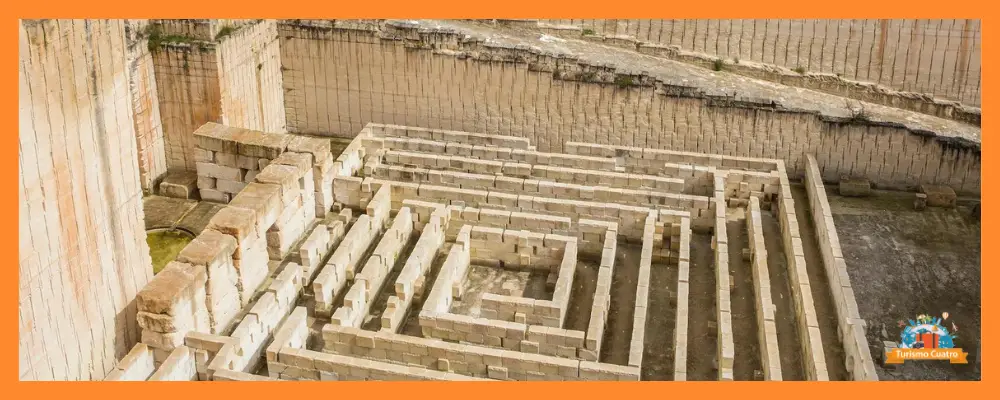 After its abandonment, it was recovered and preserved, raising its charm by restoring the striking geometric shapes which are its greatest attraction. Beyond its relevance at a cultural level, and everything you can discover about the history of Menorca inside, its walls and distribution are truly amazing.
Cova d'en Xoroi
Do you feel like enjoying relaxing music, a good drink and amazing views of the sunset from a cave in Menorca? Well then, you have to point to your list of places to visit the Cova d'en Xoroi.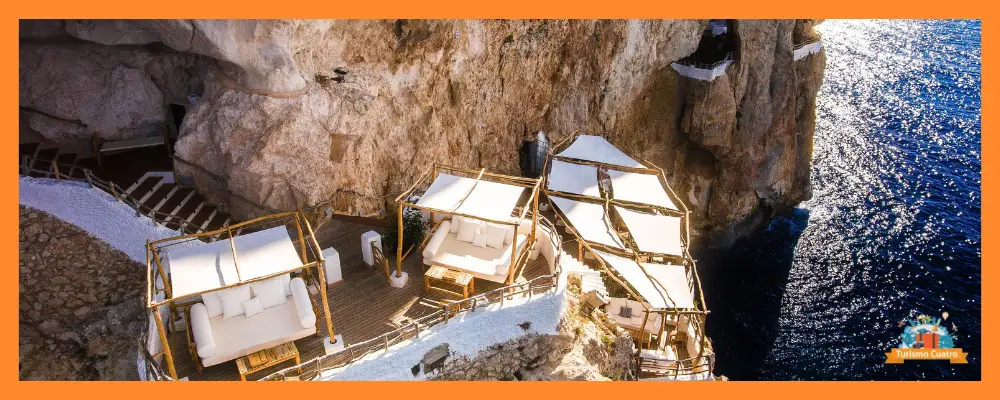 It is found in a cliff in the southern part of the island and, despite its wild nature, it is full of services: it has a bar famous for its drinks and music, several viewpoints and even a nightclub with live shows. In fact, if you want to enter it, I advise you to make a reservation in advance.
Regardless of that, to enter the Cova d'en Xoroi, you will have to pay for a ticket that includes a drink. It is worth it for the views, for the Cala en Porter Beach, which is 2 kilometers away, and for discovering the legend of the shipwrecked Xoroi.
Cala Macarella
If you want to continue discovering the crystalline waters that bathe Menorca, you cannot leave behind the Cala Macarella. A great combination of imposing cliffs with turquoise waters and worthy of a postcard that is a mandatory visit.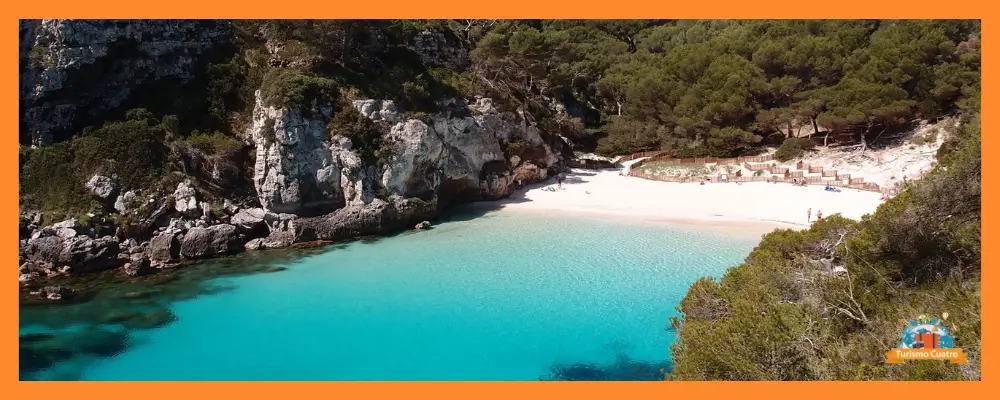 Although it is an area that suffers a strong massification In the summer months, that does not mean that you can not enjoy the views, a dip and the great beach bar that is in the middle of Cala Macarella. I advise you to visit it and, after eating something, take a walk until you reach Cala Macarelleta.
That last cove is even more incredible, although the cliff you have to cross to get there it will be the target of your camera infinite times.
Map of the best things to see in Menorca
So that you can organize yourself better and do not get lost on the island, here is a Map with the best things to see in Menorca. You remember? No? Well, here's a review:
The narrow and labyrinthine streets of Binibeca, the crystalline waters of Cala Mitjana, the imposing historic center of Ciutadella, the ancient architecture of the Naveta des Tudons, the famous Mahón and its cheeses, the beautiful sunset of the Favaritx Lighthouse... is it refreshing your memory?
Then you will also remember Menorca's highest peak, Monte Toro, the amazing Lithica quarry, the chill-out atmosphere of Cova d'en Xoroi and the contrast between the turquoise waters and the abrupt cliffs of Cala Macarella.
A planning the most complete with the essentials of Menorca. If you go to the island, you cannot leave any of these places behind!